When it comes to luxury home interior design, there are endless possibilities to create a space that is not only visually stunning but also reflects your personal style and taste. Whether you prefer a classic and elegant look or a modern and minimalist aesthetic, incorporating the right design ideas can transform your home into a luxurious retreat. In this article, we will explore ten of the best luxury home interior design ideas that will inspire you to create a space that exudes opulence and sophistication.
1. Statement Lighting
Lighting is a crucial element in luxury home interior design as it sets the mood and enhances the overall ambiance of a space. Incorporating statement lighting fixtures can instantly elevate the look of any room. Chandeliers, pendant lights, and wall sconces are popular choices that add a touch of glamour and grandeur. Consider using dimmer switches to create different lighting levels, allowing you to create a cozy and intimate atmosphere.
2. High-End Materials
The use of high-end materials is a hallmark of luxury home interior design. Marble, granite, and quartzite are popular choices for countertops and flooring, while hardwood, such as oak or mahogany, adds warmth and richness to any space. Incorporating luxurious fabrics like silk, velvet, or cashmere in your upholstery and drapery can also enhance the overall luxurious feel of your home.
3. Custom Furniture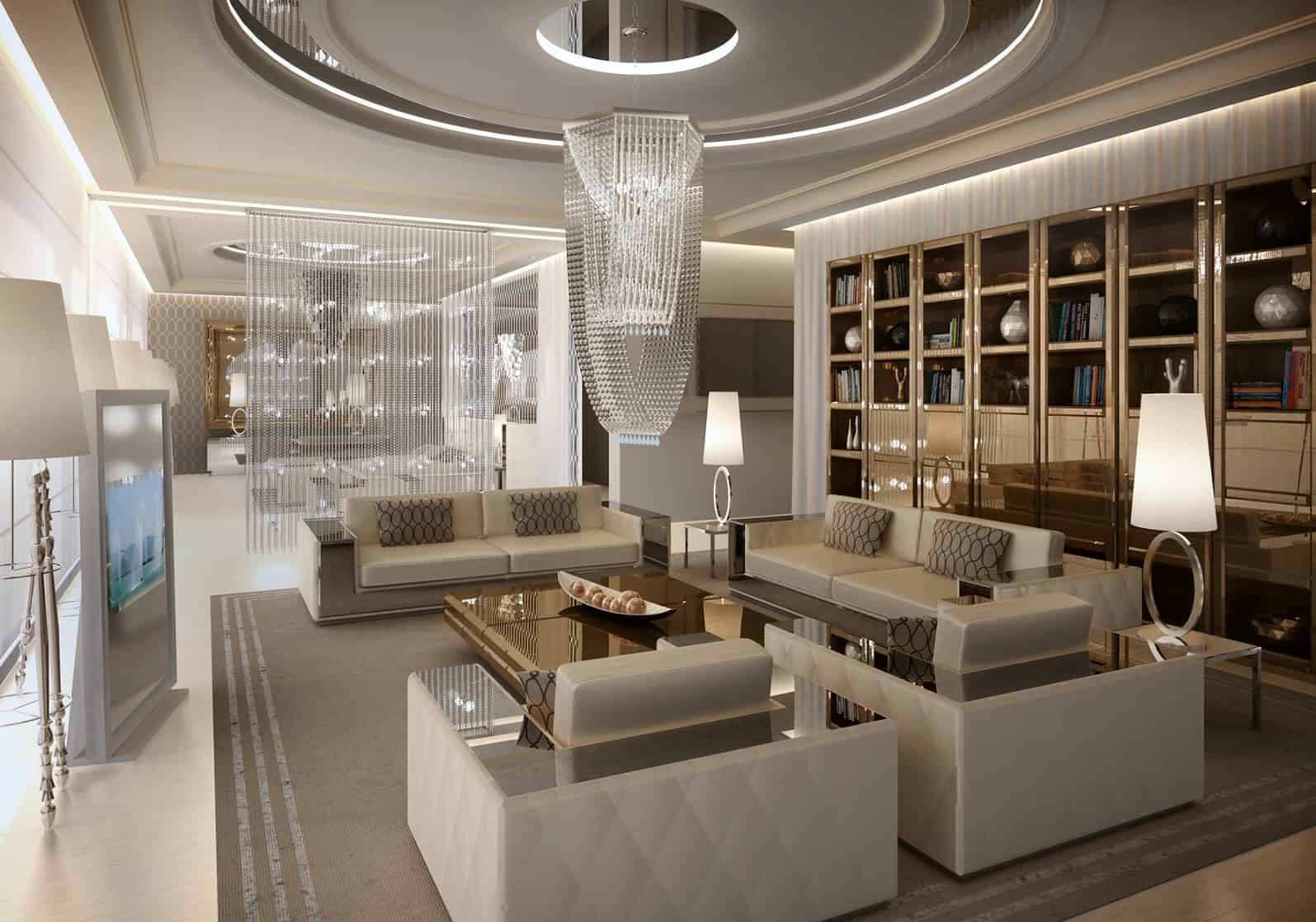 Investing in custom furniture is an excellent way to create a unique and personalized space. Custom-made sofas, chairs, and tables allow you to choose the perfect size, shape, and fabric to suit your style and needs. Additionally, custom furniture often showcases superior craftsmanship and attention to detail, further elevating the luxury factor in your home.
4. Artwork and Sculptures
Artwork and sculptures can serve as focal points and add an air of sophistication to any room. Invest in original paintings, sculptures, or limited-edition prints that resonate with you and complement the overall design of your home. Consider displaying them in well-lit areas or using spotlights to highlight their beauty and create a gallery-like atmosphere.
5. Statement Wallcoverings
A statement wallcovering can instantly transform a room and create a luxurious feel. Opt for bold and dramatic patterns, textures, or metallic finishes to add visual interest and depth to your walls. Wallpaper or textured wall panels can be used to create an accent wall in your living room, bedroom, or dining area, making a powerful design statement.
6. Luxury Bathrooms
Bathrooms are no longer just functional spaces; they have become luxurious retreats in their own right. Incorporate high-quality fixtures, such as rainfall showerheads, freestanding bathtubs, and elegant vanities, to create a spa-like atmosphere. Consider using materials like marble or mosaic tiles for a lavish touch, and don't forget to incorporate proper lighting and ample storage options.
7. Home Automation
Integrating smart home automation systems can add convenience and luxury to your living space. Control lighting, temperature, security, and entertainment systems with a touch of a button. Automated blinds or curtains, voice-controlled assistants, and state-of-the-art audiovisual systems can create a truly luxurious and futuristic home environment.
8. Walk-In Closets
A walk-in closet is a dream come true for many homeowners, and it adds a touch of luxury to any bedroom. Optimize your closet space with custom cabinetry, ample storage, and organized shelving systems. Incorporate proper lighting and full-length mirrors to create a functional and glamorous dressing area.
9. Outdoor Living Spaces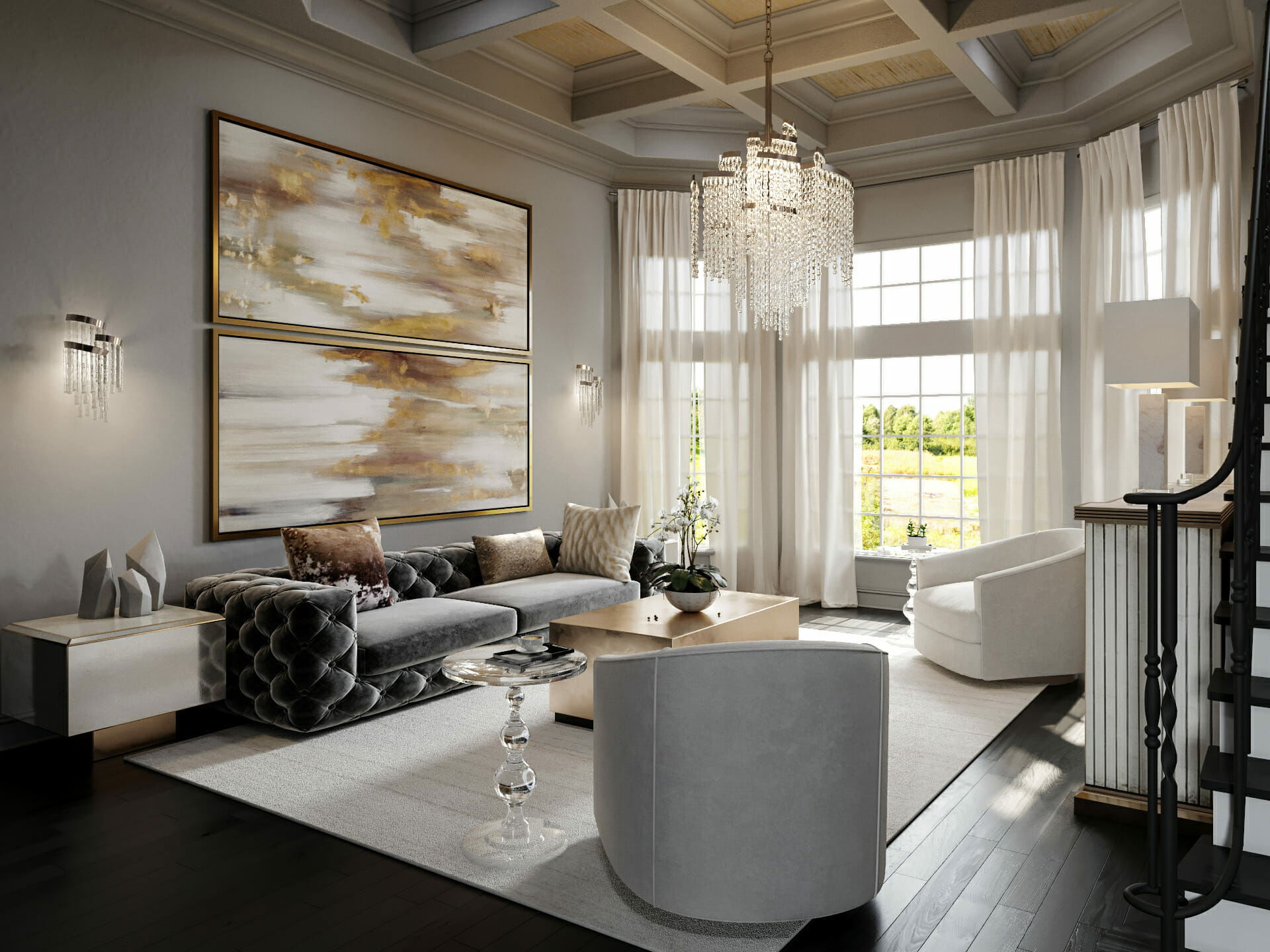 Extend the luxury of your home to the outdoors by creating stylish and comfortable outdoor living spaces. Design a beautiful patio or deck with high-quality furniture, plush cushions, and outdoor rugs. Install an outdoor kitchen or a fire pit to enhance the functionality and create a cozy ambiance for entertaining guests or enjoying quiet evenings.
10. Home Theater
A home theater is the epitome of luxury entertainment. Design a dedicated space with plush seating, state-of-the-art audiovisual equipment, and acoustic treatments to create an immersive movie-watching or gaming experience. Consider incorporating a small bar area or popcorn station to complete the luxurious home theater experience.
Summary
Creating a luxurious home interior design requires careful consideration of various elements, from lighting and materials to furniture and accessories. By incorporating statement lighting, high-end materials, and custom furniture, you can elevate the look and feel of your space. Artwork, statement wallcoverings, and luxurious bathrooms add a touch of sophistication, while home automation and walk-in closets enhance convenience and functionality. Outdoor living spaces and home theaters extend luxury to the outdoors and provide entertainment options. By incorporating these ten best luxury home interior design ideas, you can create a space that exudes opulence and reflects your personal style.
Gallery