The farmhouse kitchen decor style has gained popularity in recent years for its cozy and rustic charm. This design aesthetic combines elements of traditional and country styles to create a warm and inviting space that is perfect for gathering with family and friends. Whether you live in a farmhouse or a modern home, incorporating farmhouse kitchen decor ideas can add character and personality to your space. In this article, we will explore 15 farmhouse kitchen decor ideas that will help you create a cozy and rustic atmosphere in your own kitchen.
1. Open shelving
One of the key elements of farmhouse kitchen decor is open shelving. Instead of traditional upper cabinets, consider installing open shelves to display your favorite dishes, glassware, and cookbooks. This not only adds a touch of rustic charm but also makes it easier to access and showcase your kitchenware.
2. Vintage accessories
Add a touch of nostalgia to your farmhouse kitchen by incorporating vintage accessories. Look for antique kitchen tools, old-fashioned scales, and vintage signs to create a charming and authentic farmhouse look. These unique pieces will add character to your space and serve as conversation starters.
3. Farmhouse sink
A farmhouse sink is a quintessential element of farmhouse kitchen decor. These large, deep sinks not only look beautiful but also provide ample space for washing dishes and preparing food. Opt for a classic white porcelain or a stainless steel farmhouse sink to complete the rustic look.
4. Butcher block countertops
Butcher block countertops are another staple of farmhouse kitchen decor. These solid wood surfaces not only add warmth and texture to your space but also provide a durable and practical workspace. Consider pairing butcher block countertops with white or light-colored cabinets for a classic farmhouse look.
5. Barn doors
Add a touch of rustic charm to your kitchen by installing barn doors. These sliding doors can be used to separate the kitchen from other areas of the house or as a pantry door. Choose reclaimed wood or weathered finishes to enhance the farmhouse aesthetic.
6. Shiplap walls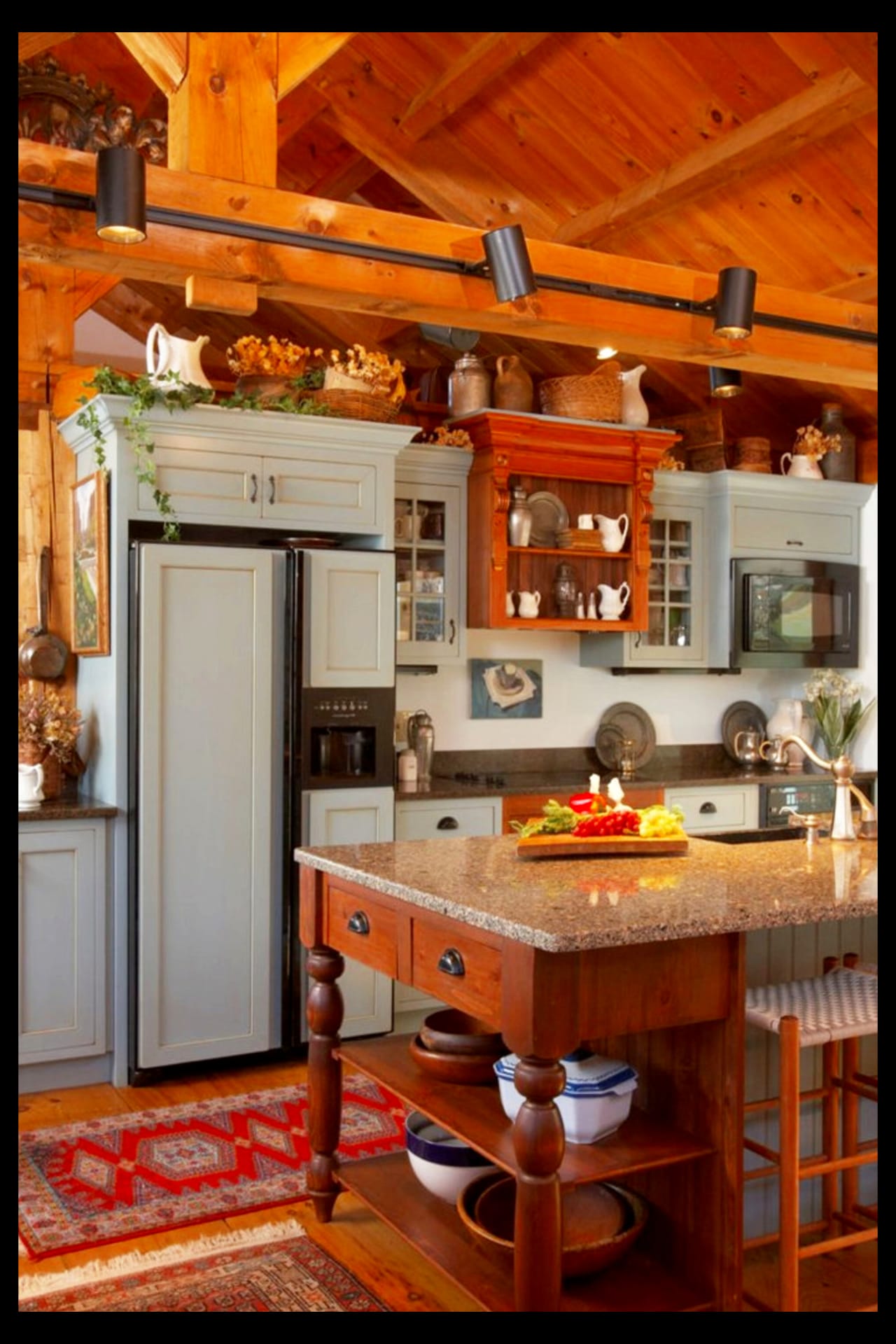 Shiplap walls are a hallmark of farmhouse style. Install shiplap on one or more walls to create a cozy and rustic backdrop for your kitchen. You can leave the shiplap natural or paint it in a light, neutral color for a more modern farmhouse look.
7. Rustic lighting
Lighting plays a crucial role in farmhouse kitchen decor. Look for fixtures with a rustic or industrial design, such as pendant lights with exposed bulbs or wrought iron chandeliers. These statement pieces will not only provide ample light but also add a touch of farmhouse charm to your space.
8. Vintage-inspired appliances
For a truly authentic farmhouse kitchen, consider investing in vintage-inspired appliances. Look for ranges, refrigerators, and dishwashers with retro designs and modern features. These appliances will not only add a touch of nostalgia but also enhance the overall farmhouse aesthetic.
9. Natural materials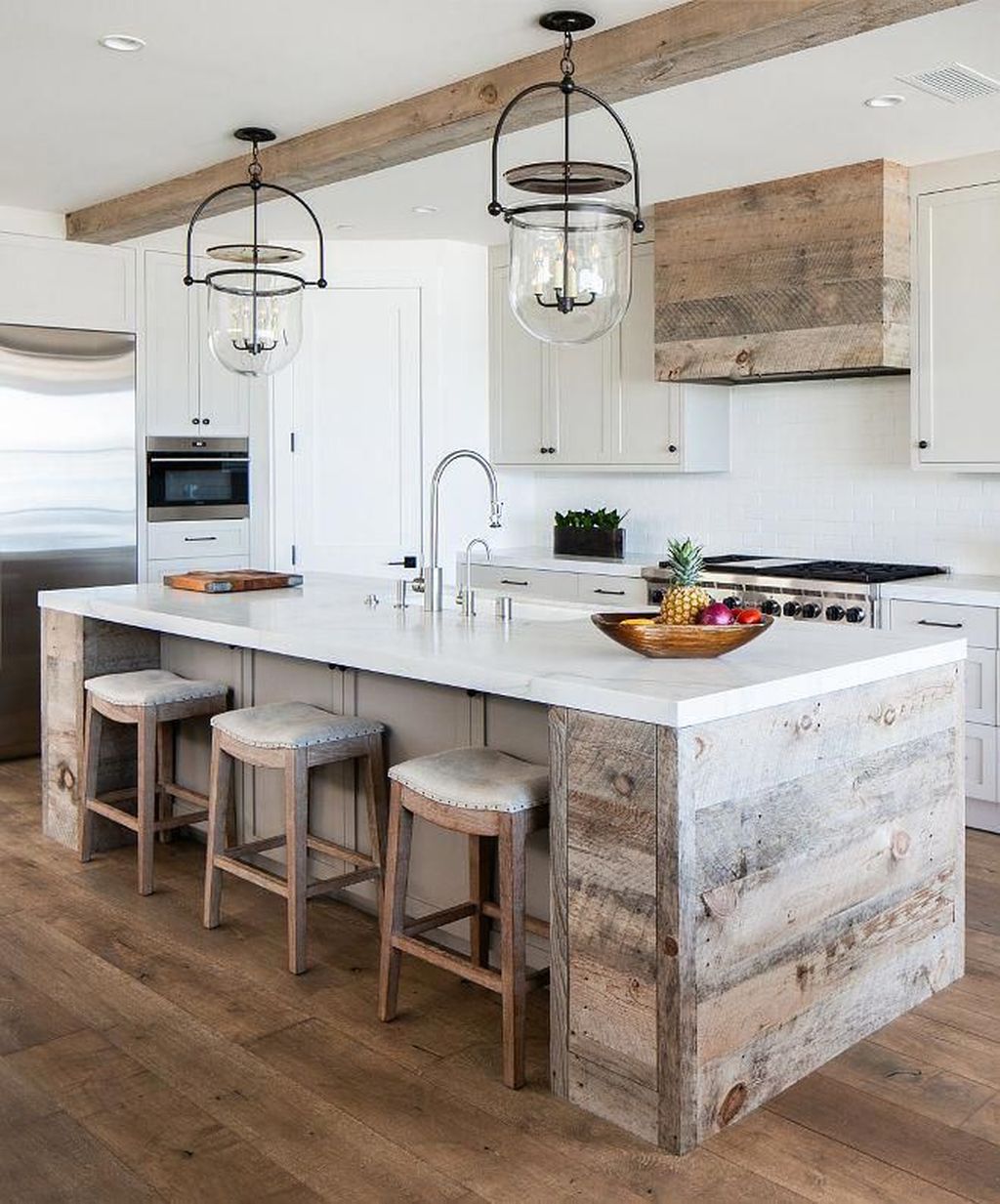 When it comes to farmhouse kitchen decor, natural materials are key. Incorporate materials such as wood, stone, and metal to create a warm and earthy atmosphere. Consider adding a reclaimed wood island, a stone backsplash, or metal bar stools to bring the farmhouse look to life.
10. Farmhouse table
A farmhouse table is a must-have piece of furniture in a farmhouse kitchen. Whether you choose a long, rustic dining table or a smaller, round farmhouse table, it will serve as the heart of your kitchen. Pair it with mismatched chairs or a cozy bench for a casual and inviting dining experience.
11. Mason jars
Mason jars are versatile and inexpensive accessories that can add a touch of farmhouse charm to your kitchen. Use them to store dry goods, display fresh flowers, or as drinking glasses. You can also paint or distress mason jars to match your kitchen's color scheme.
12. Farmhouse-inspired artwork
Hang farmhouse-inspired artwork on your kitchen walls to create a focal point and add visual interest. Look for vintage prints, botanical illustrations, or farmhouse-themed signs. These pieces will tie the farmhouse look together and add a personal touch to your space.
13. Farmhouse-style curtains
Add softness and texture to your farmhouse kitchen with farmhouse-style curtains. Consider using sheer white curtains with ruffled edges or patterned curtains with a vintage-inspired design. These curtains will not only enhance the farmhouse aesthetic but also provide privacy and filter natural light.
14. Wicker baskets
Wicker baskets are both functional and decorative in a farmhouse kitchen. Use them to store fruits and vegetables, display linens, or organize kitchen utensils. Opt for natural wicker or painted wicker baskets to add texture and warmth to your space.
15. Fresh flowers and greenery
Add a touch of nature to your farmhouse kitchen with fresh flowers and greenery. Place a vase of flowers on your farmhouse table or hang a small herb garden in your kitchen window. These natural elements will breathe life into your space and add a pop of color.
Summary
Incorporating farmhouse kitchen decor ideas can transform your kitchen into a cozy and rustic space. From open shelving and vintage accessories to farmhouse sinks and butcher block countertops, these design elements will add character and charm to your kitchen. Remember to use natural materials, vintage-inspired pieces, and farmhouse-themed artwork to tie the look together. With these 15 ideas, you can create a farmhouse kitchen that is both functional and beautiful.
Gallery