Introduction
Kitchen cabinets are an essential component of any kitchen, serving both functional and aesthetic purposes. Not only do they provide storage space for your cookware and utensils, but they also play a significant role in defining the overall style and ambiance of your kitchen. With the right design choices, you can create a kitchen that is not only stylish but also highly functional, making your cooking and meal preparation a breeze.
1. Open Shelving
One popular kitchen cabinet design idea is to incorporate open shelving into your kitchen. Open shelves not only provide a practical storage solution but also add a touch of modernity and sophistication to your kitchen. By displaying your beautiful dishware and cookbooks on open shelves, you can create a visually appealing focal point in your kitchen. Additionally, open shelving allows easy access to your frequently used items, making it a convenient option for those who love to cook and entertain.
2. Two-Tone Cabinets
If you want to add some visual interest to your kitchen, consider opting for two-tone cabinets. This design idea involves using two different colors or finishes for your upper and lower cabinets, creating a striking contrast. For example, you can pair white upper cabinets with dark wood lower cabinets or vice versa. This combination adds depth and dimension to your kitchen, giving it a unique and contemporary look. Two-tone cabinets also allow you to experiment with different color schemes and create a personalized style that reflects your taste.
3. Pull-Out Drawers
Maximizing storage space is crucial in any kitchen, and pull-out drawers are an excellent solution for achieving this. Instead of traditional shelves, pull-out drawers provide easy access to your pots, pans, and other kitchen essentials. These drawers are designed to slide out smoothly, allowing you to reach items at the back without any hassle. With pull-out drawers, you can organize your kitchen cabinets more efficiently and make the most of your available space. This design idea is especially beneficial for those with limited kitchen space.
4. Glass-Front Cabinets
If you have beautiful dishware or decorative items that you want to showcase, glass-front cabinets are an ideal choice. These cabinets feature glass panels on the front, allowing you to display your collection while keeping it protected from dust and dirt. Glass-front cabinets create an open and airy feel in your kitchen, making it appear more spacious. They also add a touch of elegance and sophistication to your kitchen design. Whether you opt for clear glass or frosted glass, glass-front cabinets are sure to make a statement in your kitchen.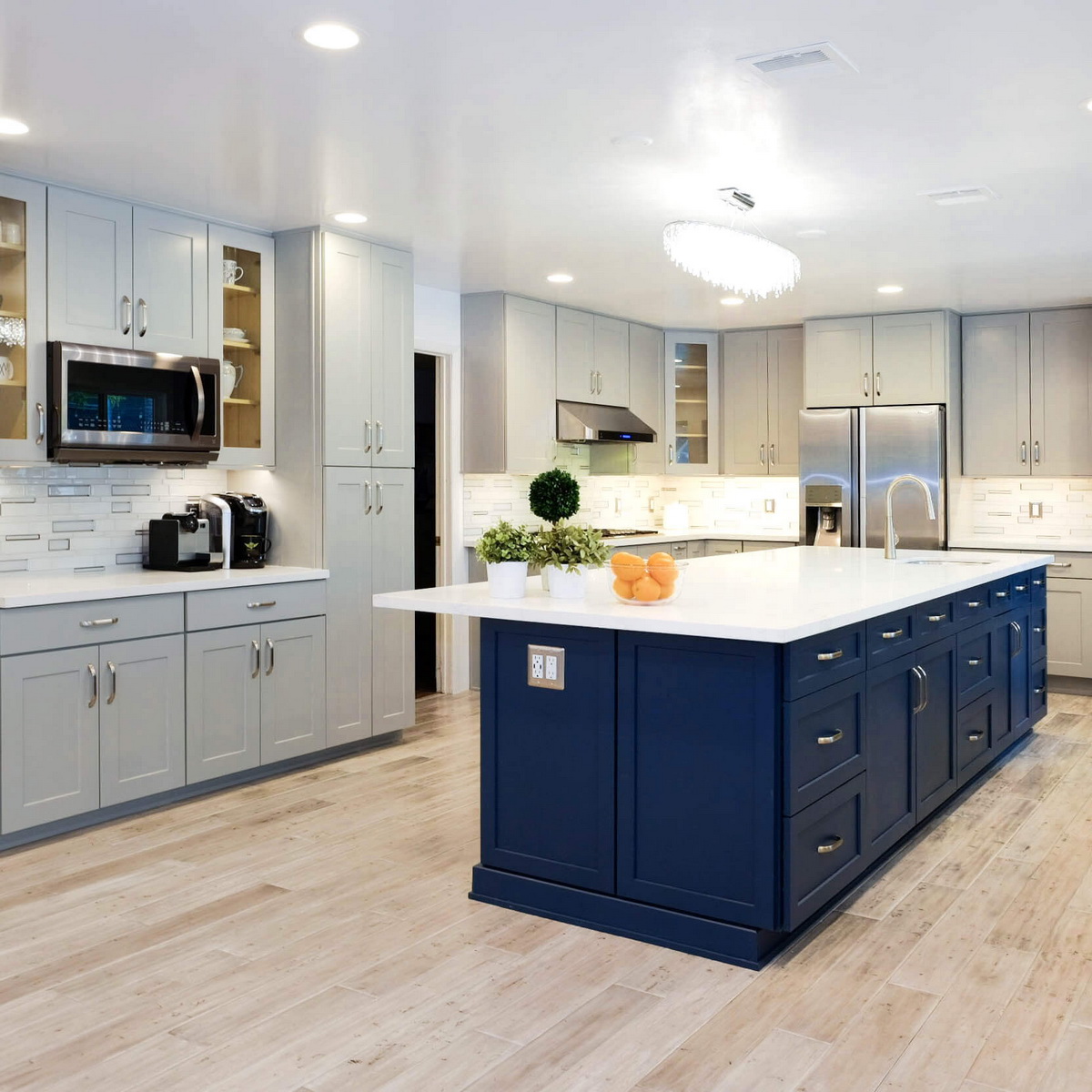 5. Customized Storage Solutions
Every kitchen has unique storage needs, and customized storage solutions can help address these specific requirements. Custom kitchen cabinets allow you to design your storage space according to your preferences and lifestyle. Whether you need extra deep drawers for your large pots or built-in dividers for your cutlery, customized storage solutions can be tailored to meet your individual needs. By maximizing the functionality of your kitchen cabinets, you can create a highly efficient and organized kitchen.
Summary
When it comes to kitchen cabinet design, there are numerous ideas that can transform your kitchen into a stylish and functional space. From open shelving to two-tone cabinets, each design idea offers a unique way to enhance the aesthetics and usability of your kitchen. Pull-out drawers and glass-front cabinets provide practical storage solutions while adding a touch of elegance. Customized storage solutions cater to your specific needs and help you make the most of your kitchen space. By incorporating these design ideas into your kitchen, you can create a space that is not only visually appealing but also highly efficient for your everyday cooking and meal preparation needs.
Gallery