Choosing The Right Curtains For Your Bedroom: A Comprehensive Guide
Introduction:
Curtains play a vital role in enhancing the aesthetics and functionality of a bedroom. They not only add privacy but also provide insulation, control light, and contribute to the overall ambiance. With countless options available, choosing the right curtains for your bedroom can be a daunting task. To help you make an informed decision, this comprehensive guide will walk you through the key factors to consider when selecting curtains for your bedroom.
1. Determine Your Needs and Preferences
Before diving into the world of curtains, it's important to evaluate your needs and preferences. Consider the following factors:
Privacy: Do you want curtains that provide complete privacy or allow some natural light to filter through?
Light Control: How much light do you want to enter your bedroom? Are you a light sleeper who prefers a dark room or someone who enjoys waking up to natural light?
Insulation: Would you like curtains that help regulate temperature by providing insulation? This can be especially important in regions with extreme weather conditions.
Style: What is your bedroom's overall style? Do you prefer a minimalist look, a traditional ambiance, or a modern and trendy vibe?
Color and Pattern: Consider the color scheme and patterns in your bedroom. Do you want curtains that blend seamlessly or create a bold contrast?
2. Measure Your Windows
Accurate measurements are crucial when choosing curtains for your bedroom. Improperly sized curtains can look unappealing and compromise their functionality. Here's how to measure your windows effectively:
Start by measuring the width of your window frame. Measure from the outer edge of one side to the outer edge of the opposite side.
Next, measure the height from the top of the frame to the desired length of your curtains. Consider whether you want them to touch the floor, hang slightly above, or pool elegantly.
Take note of any obstructions, such as radiators or furniture, that may affect the curtain length or width.
3. Fabric Selection
Choosing the right fabric is crucial for achieving the desired look and functionality of your curtains. Consider the following factors when selecting the fabric:
Lightweight Fabrics: If you want curtains that filter light and create a breezy ambiance, opt for lightweight fabrics like linen, sheer, or cotton voile.
Medium Weight Fabrics: For a balance between light filtration and privacy, consider medium-weight fabrics such as velvet, silk, or satin.
Heavyweight Fabrics: If you prioritize privacy and light control, heavyweight fabrics like brocade, suede, or thermal-backed curtains are ideal.
Patterned Fabrics: Patterned fabrics can add visual interest to your bedroom. Consider intricate designs, florals, or geometric patterns that complement your overall decor.
Color: Choose a color that not only matches your bedroom's color scheme but also sets the desired mood. Lighter colors can make a room feel more spacious, while darker hues add depth and coziness.
4. Curtain Styles and Hanging Options
There are various curtain styles and hanging options to choose from, each with its unique features and benefits. Here are a few popular options:
Rod Pocket Curtains: These curtains have a sewn-in pocket at the top, allowing the rod to slide through. They create a casual and relaxed look.
Tab Top Curtains: Tab top curtains have fabric loops along the top, which are then hung on the rod. They provide a casual and contemporary appearance.
Pleated Curtains: Pleated curtains offer a more formal and tailored look. They have evenly spaced folds that create a neat appearance when open or closed.
Grommet Curtains: Grommet curtains have metal rings along the top, through which the rod is threaded. They offer a modern and streamlined look.
Roman Shades: Roman shades are a versatile option that can be raised or lowered using a cord. They are popular for their clean lines and ability to block light effectively.
5. Additional Considerations
In addition to the above factors, there are a few other considerations to keep in mind:
Hardware and Accessories: Choose curtain rods, rings, or tracks that complement the style and weight of your curtains. Ensure they are sturdy and functional.
Maintenance: Consider the care instructions for the chosen fabric. Some fabrics may require professional cleaning, while others can be machine-washed.
Budget: Set a budget for your curtains and consider the cost of both the fabric and any additional hardware or accessories.
Summary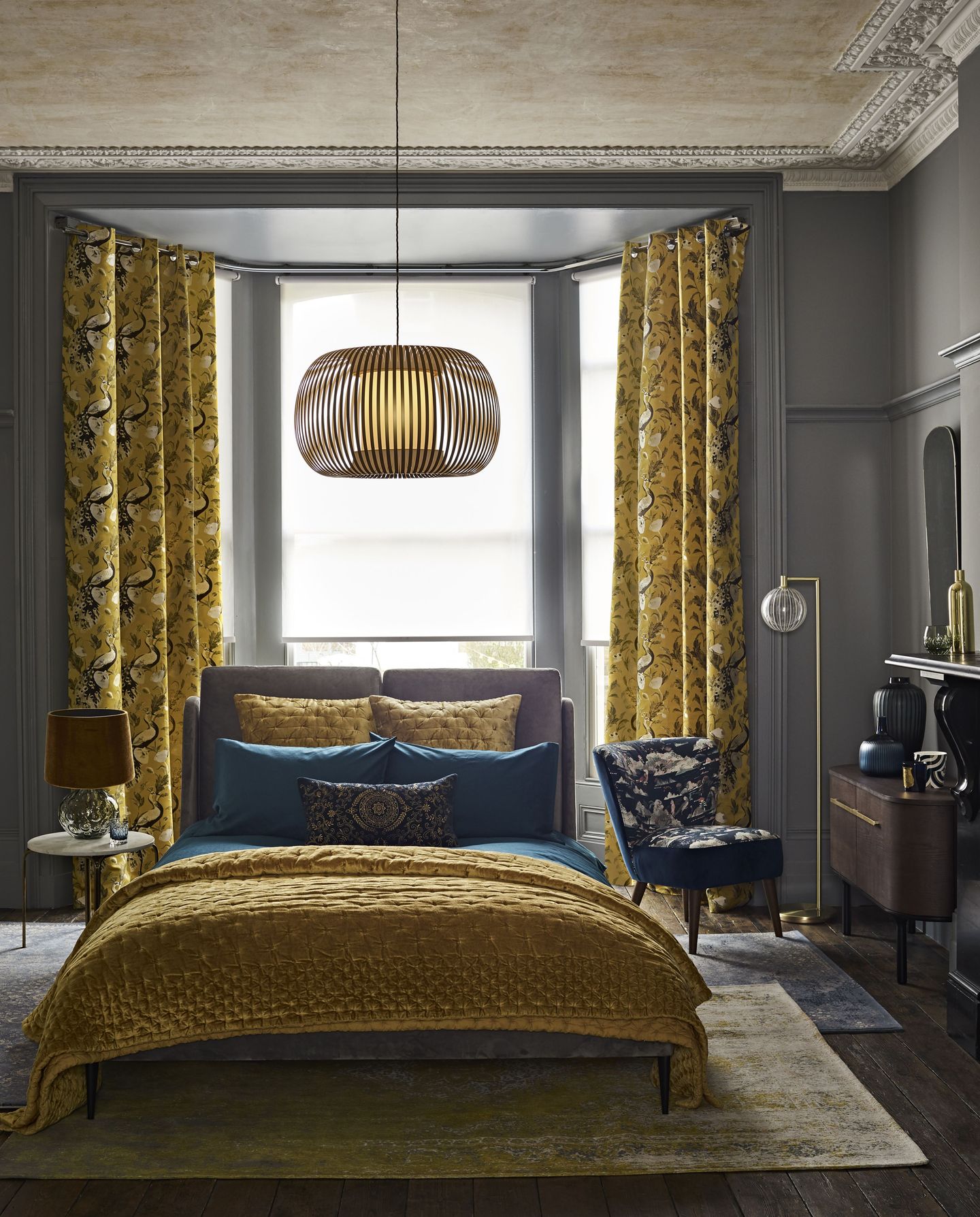 Choosing the right curtains for your bedroom is a decision that should not be taken lightly. By considering your needs, measuring your windows accurately, selecting appropriate fabrics, exploring different styles and hanging options, and keeping additional considerations in mind, you can find curtains that perfectly complement your bedroom's aesthetics and fulfill your functional requirements. Remember, curtains are not merely decorative elements but also contribute to the overall comfort and ambiance of your personal sanctuary. So take your time, explore different options, and make a choice that reflects your style and enhances your bedroom experience.
Gallery: