Curtain Heading Types
When it comes to choosing curtains for your home, there are various factors to consider, including the type of curtain heading. The heading style not only affects the overall appearance of the curtains but also determines how they hang and function. Understanding different curtain heading types can help you make an informed decision and create a cohesive look for your space.
1. Rod Pocket
The rod pocket heading is one of the most common and traditional styles. It features a sewn-in pocket at the top of the curtain panel where you can insert a curtain rod. This type of heading creates a gathered or ruffled effect, giving a classic and timeless look to your curtains. Rod pocket curtains are easy to install and typically work well with lightweight fabrics.
Pros:
Simple and easy to install.
Creates a gathered or ruffled appearance.
Cons:
Difficult to open and close the curtains.
May not work well with heavy or thick fabrics.
2. Tab Top
The tab top heading is another popular choice for curtains. It features fabric loops (tabs) sewn onto the top of the curtain panel, through which you can slide a curtain rod. Tab top curtains offer a casual and relaxed look, perfect for informal settings. They are easy to hang and provide a contemporary touch to your space.
Pros:
Easy to hang and slide curtains open and closed.
Creates a casual and relaxed appearance.
Cons:
The tabs may be visible when the curtains are closed.
May not work well with heavy or thick fabrics.
3. Grommet
The grommet, also known as eyelet, heading is a modern and stylish option for curtains. It features large metal rings inserted into the top of the curtain panel, through which you can thread a curtain rod. Grommet curtains offer a clean and contemporary look, with the fabric falling in even and neat folds. They are easy to open and close, making them a popular choice for everyday use.
Pros:
Easy to open and close the curtains.
Creates sleek and contemporary folds.
Works well with various fabric weights.
Cons:
Requires a specific curtain rod size to fit the grommets.
Grommets may make noise when sliding the curtains.
4. Pinch Pleat
The pinch pleat heading is a classic and formal style commonly seen in elegant and traditional interiors. It involves fabric pleats sewn at regular intervals along the top of the curtain panel, creating a tailored and sophisticated look. Pinch pleat curtains require hooks or rings to hang, and they provide a structured appearance with graceful folds.
Pros:
Offers a formal and elegant look.
Creates neatly folded pleats.
Works well with heavy or thick fabrics.
Cons:
Requires additional hardware for hanging.
Can be more challenging to install and maintain.
Curtain Lengths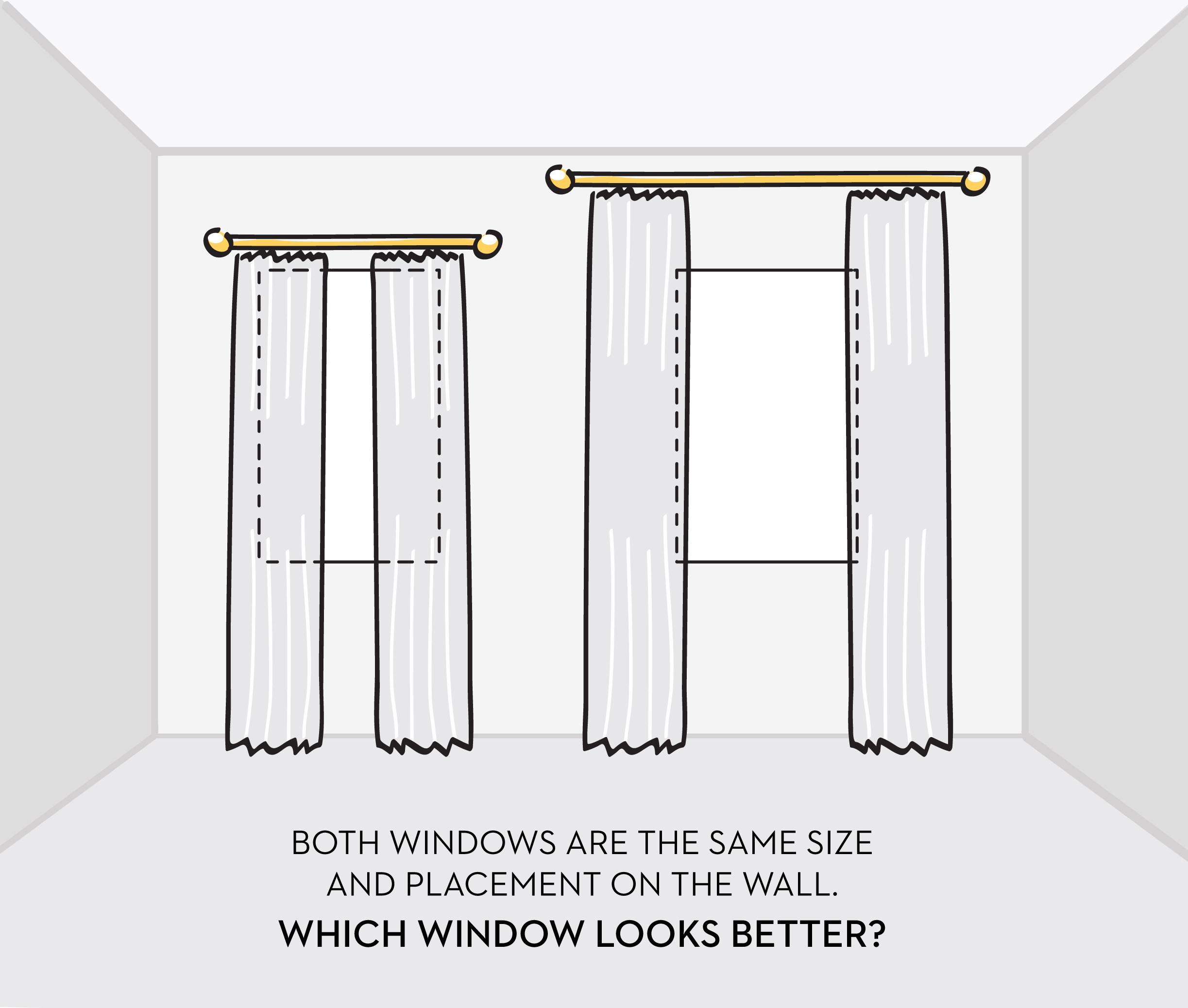 Choosing the right curtain length is crucial to achieving a polished and balanced look in your home. The length of your curtains can influence the perception of the room's height and the overall aesthetic appeal. Here are some common curtain lengths to consider:
1. Floor-Length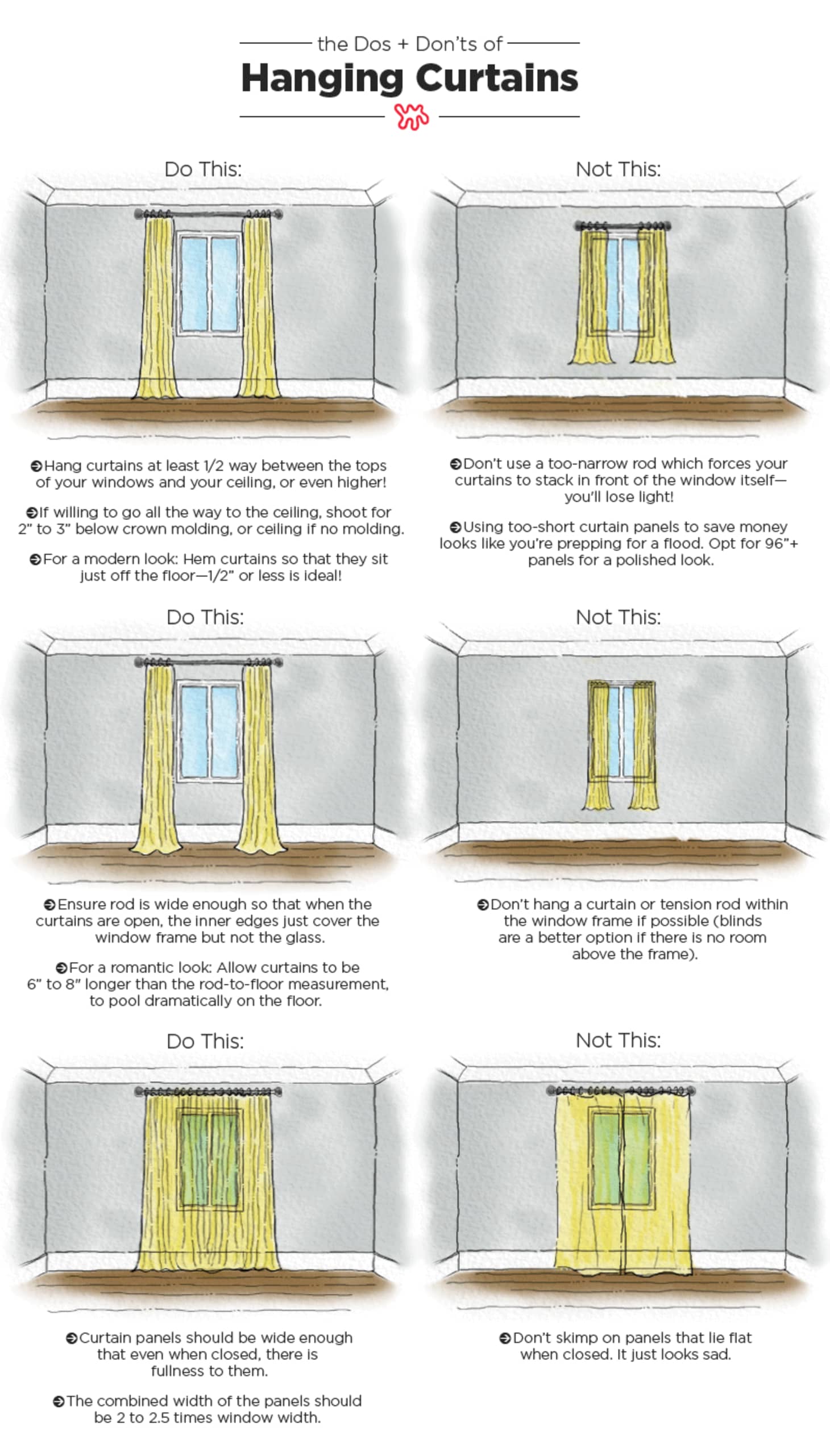 Floor-length curtains are an elegant and timeless choice. They extend all the way to the floor, just barely touching or slightly pooling on the ground. This length creates a luxurious and dramatic effect, making the room appear larger and more sophisticated.
2. Apron-Length
Apron-length curtains fall just below the window sill, typically ending around 6 inches (15 cm) above the floor. This length is ideal for windows located above radiators or other obstructions. Apron-length curtains provide a clean and tailored look, suitable for modern and minimalist interiors.
3. Sill-Length
Sill-length curtains reach the window sill, offering a classic and traditional appearance. They are often used in kitchens and bathrooms or in rooms where full-length curtains might be impractical. Sill-length curtains allow for easy access to the window and maintain a balanced look.
4. Café-Length
Café-length curtains are typically hung halfway up the window, covering the bottom portion while leaving the upper part exposed. This length is commonly used in kitchens and dining areas to provide privacy while still allowing natural light to enter. Café-length curtains create a charming and casual atmosphere.
Curtain Fabrics
The choice of curtain fabric not only affects the overall style and feel of your space but also influences the functionality of your curtains. Different fabrics offer various levels of light control, privacy, and insulation. Here are some popular curtain fabrics to consider:
1. Cotton
Cotton is a versatile and widely used fabric for curtains. It is breathable, easy to care for, and available in a variety of patterns and colors. Cotton curtains provide a natural and relaxed look, suitable for both casual and formal settings. They offer moderate light control and privacy.
2. Linen
Linen curtains are known for their natural and textured appearance. They add an organic and rustic touch to any space. Linen fabric offers excellent light filtration, allowing a soft and diffused glow to enter the room. Linen curtains are ideal for creating an airy and tranquil atmosphere.
3. Velvet
Velvet curtains exude luxury and sophistication. The plush and heavy fabric provides excellent insulation and light control, making them ideal for bedrooms or rooms where privacy is essential. Velvet curtains add a touch of opulence and warmth to your space.
4. Sheer
Sheer curtains are made from lightweight and translucent fabrics, such as voile or chiffon. They allow ample natural light to enter the room while providing a certain level of privacy. Sheer curtains create an airy and ethereal ambiance, perfect for enhancing the brightness and openness of a space.
Conclusion
Understanding essential curtain terminology is essential for homeowners looking to enhance the aesthetics and functionality of their space. By familiarizing yourself with different curtain heading types, lengths, and fabrics, you can make informed decisions that align with your personal style and requirements. Whether you prefer a classic pinch pleat curtain in a formal living room or a contemporary grommet curtain in a casual bedroom, the right choice can elevate the overall look and feel of your home.