Handcrafted solid wood coffee tables are a timeless addition to any living space. These beautifully crafted pieces of furniture not only provide a functional surface for your coffee cups, books, and magazines but also add a touch of elegance and warmth to your home. In this article, we will explore the world of handcrafted solid wood coffee tables, their benefits, the different types available, and what to consider when purchasing one.
The Beauty of Handcrafted Solid Wood Coffee Tables
One of the main advantages of handcrafted solid wood coffee tables is their unique beauty. Each piece is carefully crafted by skilled artisans who take pride in their workmanship. Unlike mass-produced furniture, handcrafted coffee tables have individuality and character, making them stand out in any room. The natural grain patterns, knots, and imperfections in the wood add to their charm and make them truly one-of-a-kind.
Furthermore, solid wood furniture ages gracefully. Over time, the wood develops a rich patina that enhances its beauty. Unlike other materials, such as glass or metal, solid wood coffee tables have a warmth and organic feel that creates a cozy atmosphere in your living space.
The Benefits of Solid Wood
When it comes to furniture, solid wood is considered the gold standard. Here are some of the key benefits of choosing a handcrafted solid wood coffee table:
Durability: Solid wood furniture is known for its durability and longevity. With proper care, a well-made coffee table can last for generations.
Strength: Solid wood is sturdy and can withstand daily use and even the occasional accidental bump or knock.
Natural and Eco-Friendly: Solid wood is a renewable resource, making it an environmentally friendly choice. It is also free from harmful chemicals often found in other types of furniture.
Customization: Handcrafted solid wood coffee tables can be customized to fit your specific needs and preferences. You can choose the type of wood, finish, size, and design to create a truly personalized piece.
Types of Wood for Coffee Tables
There are various types of wood used in the creation of handcrafted solid wood coffee tables. Each type has its own unique characteristics and brings a different aesthetic to the table (pun intended). Here are a few popular choices:
1. Oak
Oak is a highly durable and strong wood. It has a distinctive grain pattern and can be finished in different ways to achieve a variety of looks, from traditional to contemporary.
2. Walnut
Walnut is known for its rich, dark brown color and beautiful grain patterns. It exudes sophistication and elegance, making it a popular choice for high-end furniture.
3. Maple
Maple is a light-colored wood with a smooth and even texture. It is often used for modern and minimalist designs, as it provides a clean and sleek look.
4. Cherry
Cherry wood has a warm reddish-brown hue and a smooth, satiny finish. It develops a deep and lustrous patina over time, making it a favorite among those who appreciate the natural aging process of wood.
Choosing the Right Handcrafted Solid Wood Coffee Table
When selecting a handcrafted solid wood coffee table, there are a few factors to consider:
Size: Measure your living space to determine the appropriate size for your coffee table. Consider the available space around it for comfortable movement.
Style: Choose a coffee table that complements your existing furniture and the overall aesthetic of your room. Consider the shape, design, and finish that best suits your taste.
Functionality: Think about how you will use the coffee table. Do you need additional storage or shelving? Will you be using it for dining or working?
Budget: Set a budget range and look for coffee tables within that range. Remember, handcrafted solid wood furniture can be an investment, but it is worth it for its quality and longevity.
Conclusion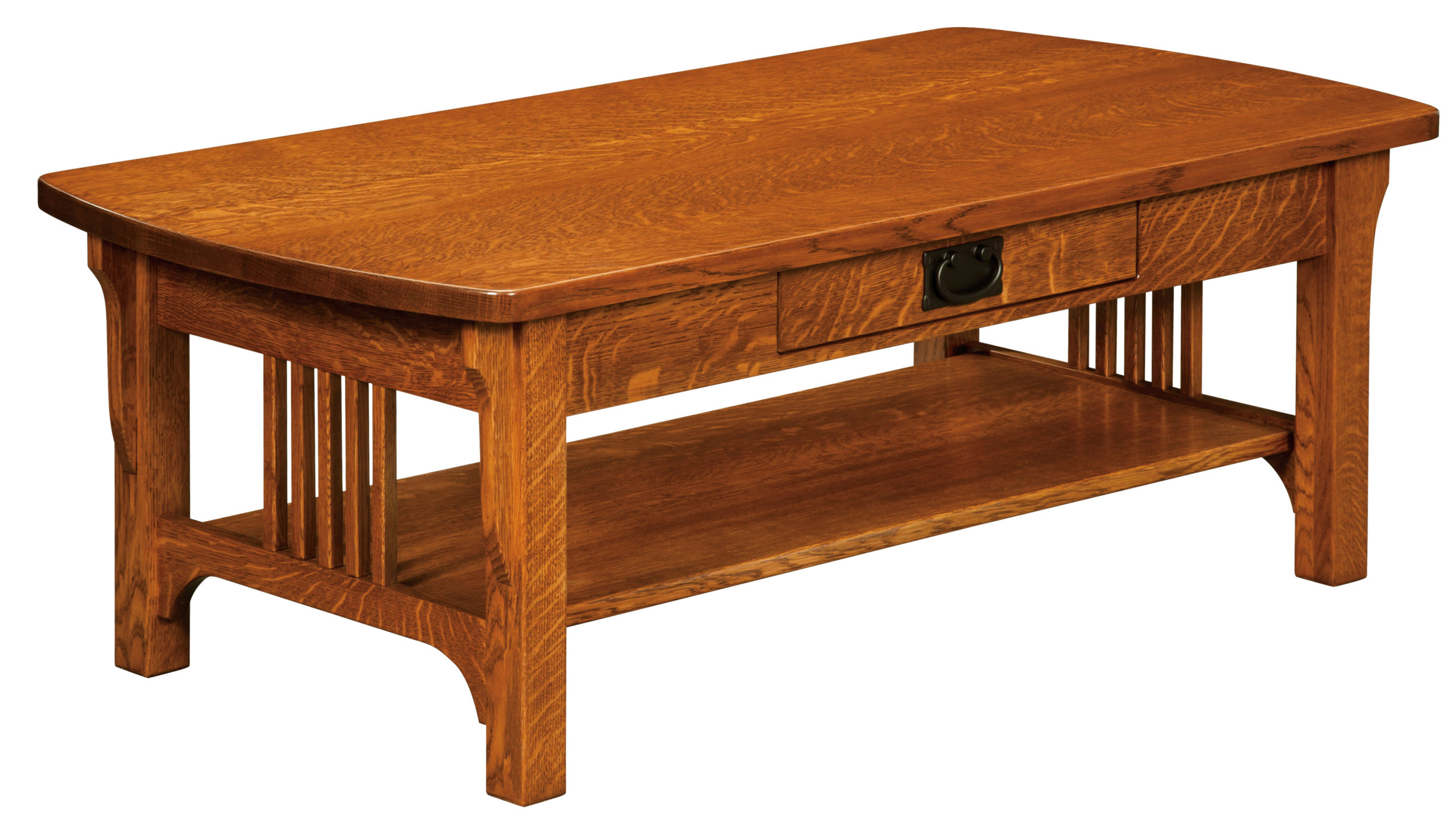 Handcrafted solid wood coffee tables are not just pieces of furniture; they are works of art. Their beauty, durability, and customization options make them a worthwhile investment for any home. Whether you choose oak, walnut, maple, or cherry, a handcrafted solid wood coffee table will add style and sophistication to your living space. Remember to consider the size, style, functionality, and your budget when making your selection. With proper care, your handcrafted solid wood coffee table will become a cherished heirloom that can be enjoyed for many years to come.
Gallery