Creating the perfect home office space can be an intimidating task. With so many options out there, it can be difficult to know where to start. That's why we've put together some home office decor inspiration to get your creative juices flowing. From cozy nooks to sleek modern setups, there's something here to suit everyone's style and budget.
Choose Your Perfect Color Scheme
The key to creating a home office that you'll love is to choose a color palette that's both stylish and calming. Neutrals and pastels are great for creating a calming atmosphere, while brighter colors can add a pop of personality to your workspace. Consider adding some accent pieces such as cushions, art, and rugs to brighten up the room and add interest.
Invest in Quality Furniture
When it comes to office furniture, comfort and style should be your top priorities. Invest in quality pieces that you know will last for years to come. Consider ergonomic chairs and desks that are adjustable to suit your needs. And don't forget to add plenty of storage to keep your workspace tidy and organized.
Personalize Your Space
One of the best ways to make your home office feel like your own is to personalize it with photos, artwork, and other items that reflect your personality. A few well-placed pieces can instantly transform a room and make it feel more like a sanctuary.
Make the Most of Natural Light
When it comes to home office decor, natural light is your friend. Make the most of it by adding sheer curtains or blinds to the windows. This will help to create a bright and airy feel in the room without sacrificing privacy.
Maximize Your Space
If you're short on space, don't worry. There are plenty of ways to make the most of the room you have. Consider multi-functional furniture such as a desk that doubles as a dining table, or a wall-mounted shelf that can hold books, plants, and other items.
Create a Cozy Corner
Adding a cozy corner to your home office will make it the perfect place to relax and unwind. Consider investing in a comfortable armchair or bean bag chair, as well as some cozy cushions and blankets. You can even add a small side table to hold your favorite books or magazines.
Add Some Greenery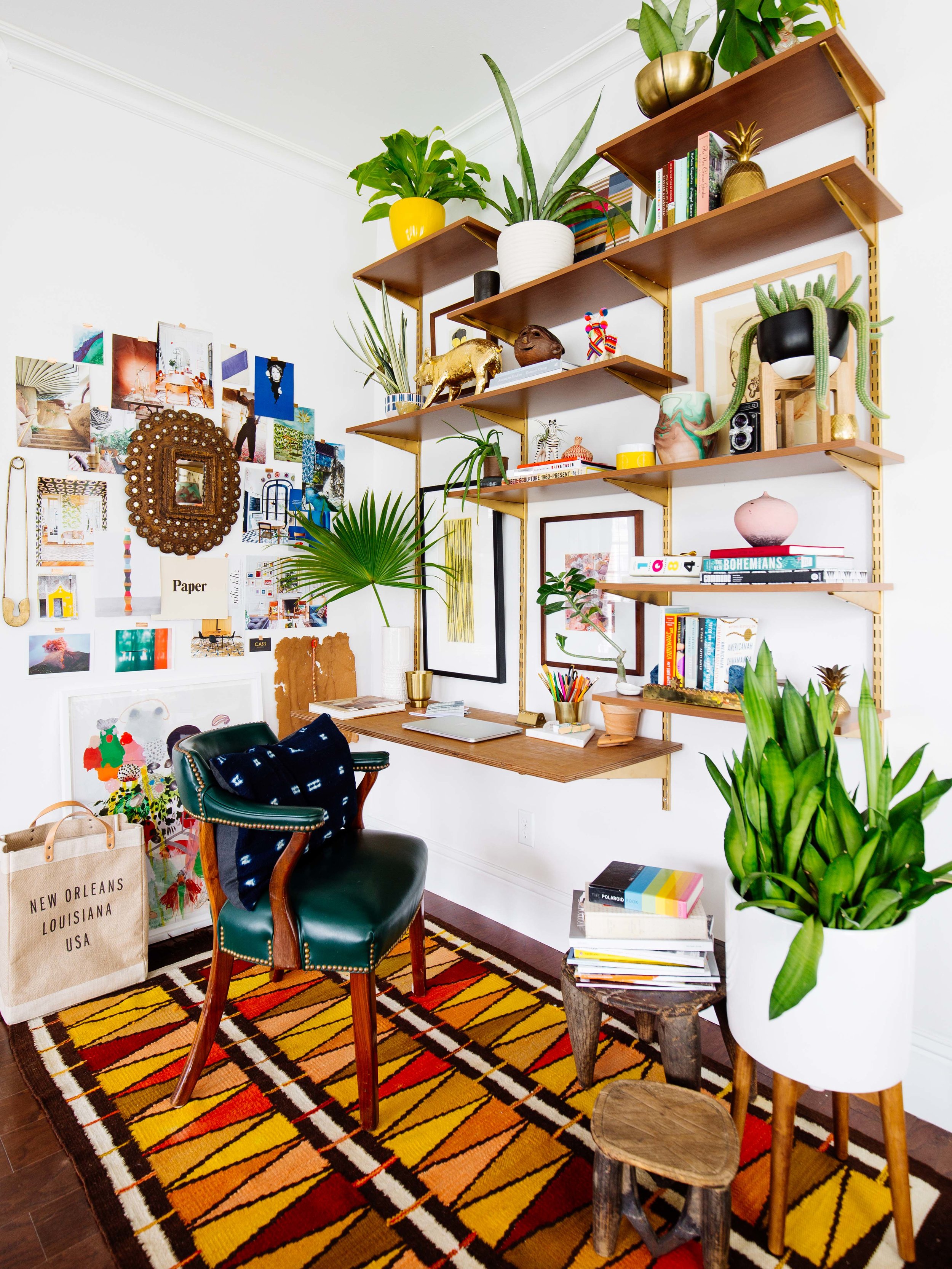 Plants are a great way to bring life and color to your home office. Low-maintenance varieties such as succulents, cacti, and air plants are perfect for busy professionals. Add some planters to your windowsills or shelves to bring a bit of the outdoors in.
Organize Your Desk
One of the most important things to consider when creating your perfect workspace is desk organization. Invest in a few storage solutions such as trays, drawers, and boxes to keep your desk looking neat and tidy. This will help you to stay focused and productive.
Lighting is Key
The right kind of lighting can make a huge difference to your workspace. Natural light is best, but if you don't have access to it, consider investing in some quality lighting fixtures. Desk lamps and wall sconces are great for creating a cozy atmosphere, while task lighting is perfect for more focused work.
Have Fun With Accessories
Finally, don't forget to have fun with your home office decor. Add some personality to the space with fun accessories such as patterned rugs, quirky desk accessories, and wall art. This is your chance to create a workspace that reflects your style and makes you feel inspired.