Oak kitchen cabinets are a timeless and classic choice for any kitchen design. With their natural beauty and durability, they can transform your kitchen into a warm and inviting space. Whether you have a modern, traditional, or rustic style, natural oak cabinets can be the highlight of your kitchen. In this article, we will explore how to make natural oak kitchen cabinets the focal point of your kitchen, from choosing the right finish to styling them with complementary elements.
Choosing the Right Finish
When it comes to oak kitchen cabinets, the finish you choose can significantly impact the overall look and feel of your kitchen. There are several finishes available, each with its unique characteristics and advantages. Let's explore some popular options:
Natural Finish: A natural finish allows the natural beauty of oak to shine through. It enhances the grain and texture, giving your cabinets a warm and organic feel.
Stained Finish: Stained finishes offer a range of colors that can complement your kitchen's color scheme. From light to dark stains, you can choose the one that best suits your style.
Painted Finish: If you prefer a more contemporary or customized look, consider painting your oak cabinets. With a painted finish, you can choose any color you desire, allowing for endless design possibilities.
When selecting a finish, consider the overall style and color palette of your kitchen. A natural finish is ideal for a rustic or traditional kitchen, while a stained or painted finish can work well in both modern and traditional settings.
Bringing Out the Natural Beauty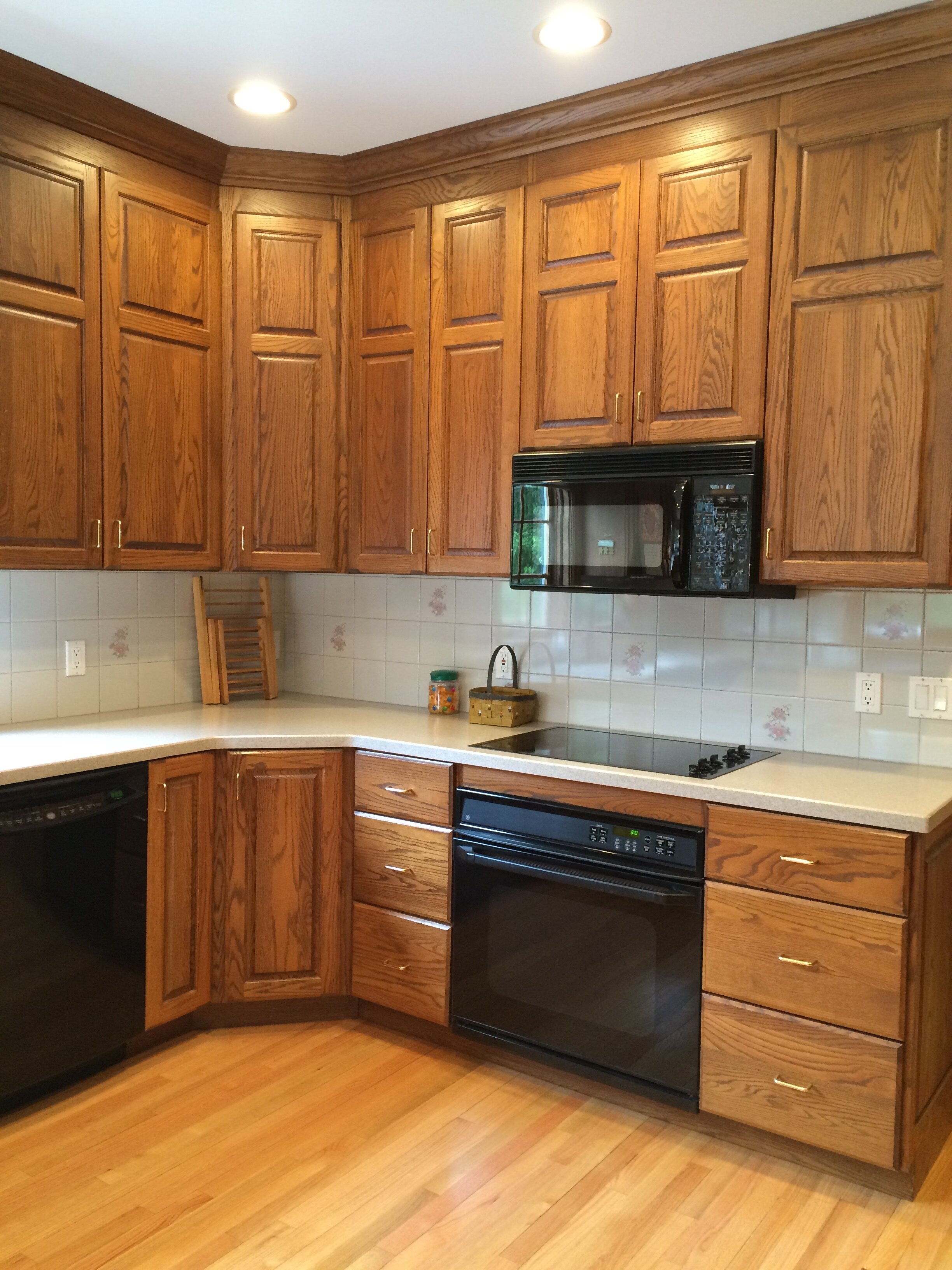 Oak cabinets have a distinct grain pattern and texture that adds depth and character to your kitchen. To make them the highlights of your kitchen, consider the following tips:
Proper Lighting: Adequate lighting can accentuate the beauty of your oak cabinets. Install under-cabinet lights to showcase the unique grain patterns and create a warm ambiance.
Contrasting Colors: Pair your oak cabinets with contrasting colors to make them stand out. Light-colored countertops, backsplashes, or walls can create a striking contrast and draw attention to the cabinets.
Showcasing Hardware: Choose hardware that complements the natural beauty of oak. Consider using brushed nickel, bronze, or brass handles and pulls to add a touch of elegance and sophistication.
Open Shelving: If you have a few upper cabinets, consider replacing them with open shelves. This allows you to display your beautiful dishware or decorative items, making your oak cabinets the focal point of the kitchen.
Minimalism: Embrace a minimalist approach by keeping your countertops clutter-free and opting for sleek and simple accessories. This allows your oak cabinets to take center stage and create a clean and uncluttered look.
Complementary Elements
To enhance the overall look and feel of your kitchen, consider incorporating complementary elements that work harmoniously with your oak cabinets:
Warm Flooring: Choose flooring materials that complement the warmth and natural beauty of oak, such as hardwood or natural stone. Avoid cool-toned tiles that may clash with the warm tones of the cabinets.
Neutral Backsplash: Opt for a neutral-colored backsplash to create a cohesive look. Subway tiles, natural stone, or even a simple white backsplash can provide a clean backdrop for your oak cabinets.
Accents: Add pops of color or texture through accent pieces like colorful rugs, vibrant curtains, or decorative accessories. These elements can create visual interest and complement the warmth of the oak cabinets.
Greenery: Introduce plants or fresh herbs to your kitchen to bring life and freshness. The vibrant green colors against the warm tones of oak can create a visually appealing contrast.
Maintaining and Caring for Oak Cabinets
To ensure that your oak cabinets remain the highlights of your kitchen for years to come, proper maintenance and care are essential. Follow these tips to keep them looking their best:
Regular Cleaning: Wipe down your cabinets regularly with a soft cloth and mild soap to remove any grease or dirt. Avoid harsh chemicals or abrasive cleaners that can damage the finish.
Preventive Measures: Use coasters, trivets, or placemats to protect the surface from hot pans, dishes, or spills. This helps prevent any potential damage to the finish.
Avoid Excessive Moisture: Oak cabinets can be sensitive to excessive moisture, so avoid placing them near sinks or dishwashers. If any water spills occur, wipe them up immediately to prevent water damage.
Regular Maintenance: Depending on the finish, oak cabinets may require periodic maintenance such as re-staining or re-painting. Follow the manufacturer's instructions and consult professionals if needed.
Summary
Natural oak kitchen cabinets have the potential to become the highlights of your kitchen, regardless of your style or design preference. By choosing the right finish, enhancing their natural beauty, incorporating complementary elements, and providing proper care, you can create a kitchen that is both functional and visually appealing. Remember to consider the overall color palette, lighting, and hardware to truly make your oak cabinets shine. With their timeless and durable nature, natural oak cabinets can transform your kitchen into a warm and inviting space for years to come.
Oak kitchen cabinets with a natural finish showcasing the beautiful grain and texture.
A kitchen with oak cabinets and contrasting light-colored countertops, highlighting the warmth of the wood.
Oak cabinets with brushed nickel hardware, adding elegance and sophistication to the kitchen.
Open shelving displaying dishware, making the oak cabinets the focal point of the kitchen.
Oak cabinets in a minimalist kitchen, creating a clean and uncluttered look.
Warm hardwood flooring complementing the natural beauty of oak cabinets.
A neutral-colored backsplash providing a clean backdrop for oak cabinets.
Accents of color through rugs and accessories, adding visual interest to the kitchen.
Greenery in the form of plants or fresh herbs, creating a vibrant contrast against oak cabinets.
Regular cleaning and maintenance to keep oak cabinets looking their best.
Using coasters and trivets to protect the surface of oak cabinets from hot pans and spills.