Small Space Big Impact: Balcony And Patio Decorating Ideas
When it comes to outdoor living spaces, balconies and patios are often overlooked. However, with the right design and decor, these small areas can have a big impact on your overall living space. Whether you have a cozy balcony or a spacious patio, there are plenty of creative ways to transform these areas into inviting and stylish retreats. In this article, we will explore some inspiring balcony and patio decorating ideas that will help you make the most of your outdoor space.
1. Define your space
The first step in creating a stunning balcony or patio is to define the space. This can be done by using outdoor rugs or floor tiles to create a distinct area. Choose a rug or tiles that complement your overall design theme and add visual interest to the space. By defining the space, you create a sense of structure and make the area feel more intentional.
2. Choose the right furniture
When it comes to furnishing your balcony or patio, it is important to choose furniture that is both functional and visually appealing. Opt for pieces that are suitable for outdoor use and can withstand different weather conditions. If you have a small space, consider using folding furniture or multi-functional pieces that can be easily stored when not in use. Additionally, choose furniture that complements the overall style of your outdoor space and provides comfortable seating for you and your guests.
3. Add greenery
No outdoor space is complete without the addition of plants and greenery. Balconies and patios are perfect places to incorporate plants, as they can add color, texture, and a sense of tranquility to your outdoor oasis. Consider using hanging plants, potted plants, or vertical gardens to maximize the use of space. Choose plants that are suitable for your climate and the amount of sunlight your balcony or patio receives. If you have limited floor space, consider using wall-mounted planters or plant shelves to create a vertical garden.
4. Create privacy
Privacy is often a concern when it comes to balcony and patio living. However, there are several creative ways to create a sense of privacy without compromising on style. One option is to use outdoor curtains or blinds to create a barrier between your space and the outside world. These can be easily opened or closed depending on your needs. Another option is to use privacy screens or partitions, which can add visual interest while blocking the view from neighboring buildings or passersby. Additionally, using tall plants or trellises can create a natural privacy barrier.
5. Incorporate lighting
Lighting is an essential element in creating a cozy and inviting outdoor space. Consider incorporating different types of lighting to add ambience and functionality to your balcony or patio. String lights can create a romantic and whimsical atmosphere, while lanterns or candles can add a warm and inviting glow. Additionally, using solar-powered lights or LED fixtures can help save energy and create a sustainable outdoor space.
6. Add personal touches
To truly make your balcony or patio feel like an extension of your home, don't forget to add personal touches. Incorporate elements that reflect your personality and interests, such as artwork, sculptures, or decorative accessories. Consider adding outdoor rugs, throw pillows, or blankets to add comfort and style. By adding personal touches, you create a space that feels unique and inviting.
7. Make use of vertical space
When working with a small balcony or patio, it is important to maximize the use of vertical space. This can be done by using wall-mounted shelves or storage units to keep your space organized and clutter-free. Consider using hanging planters or vertical gardens to add greenery without taking up valuable floor space. Additionally, hanging artwork or mirrors on the walls can create visual interest and make the space feel larger.
8. Use color and patterns
Don't be afraid to use color and patterns in your balcony or patio design. Vibrant colors and bold patterns can add visual interest and make your outdoor space feel lively and energetic. Consider using colorful cushions, rugs, or accessories to add pops of color. If you prefer a more subdued look, opt for a monochromatic color scheme or use neutral tones to create a calm and serene atmosphere.
9. Create a focal point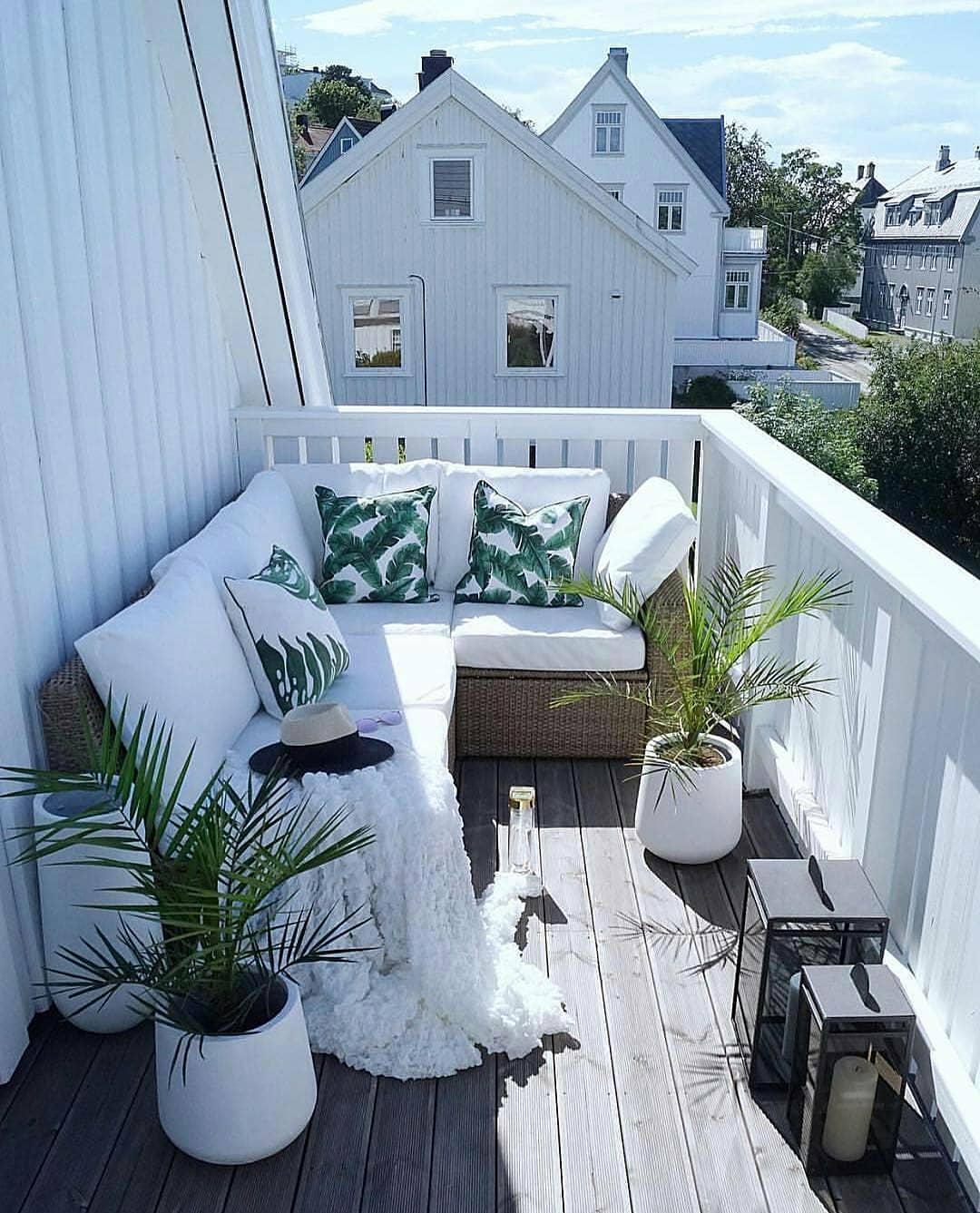 Every outdoor space needs a focal point that draws the eye and anchors the design. This can be a statement piece of furniture, a stunning plant arrangement, or a unique artwork. By creating a focal point, you give your balcony or patio a sense of purpose and create a visually captivating space.
10. Maintain your space
To ensure that your balcony or patio remains inviting and beautiful, it is important to maintain and care for your outdoor space. Regularly clean your furniture, sweep the floor, and remove any debris or fallen leaves. Water and fertilize your plants as needed, and trim any overgrown branches or foliage. By taking care of your space, you ensure that it continues to make a big impact for years to come.
Summary
Balconies and patios may be small in size, but they have the potential to make a big impact on your outdoor living space. By defining the space, choosing the right furniture, adding greenery, creating privacy, incorporating lighting, adding personal touches, maximizing vertical space, using color and patterns, creating a focal point, and maintaining your space, you can transform your balcony or patio into an inviting and stylish retreat. So, don't overlook these small areas; instead, unleash their potential and create an outdoor oasis that will leave a lasting impression on your guests.