Introduction
When it comes to creating a cozy and inviting outdoor space, few things can compare to the warmth and ambiance provided by a fire pit. Whether you're entertaining guests or simply enjoying a quiet evening with loved ones, an outdoor fire pit can be the perfect addition to your patio or backyard. In this article, we will explore stylish outdoor fire pit sets that not only provide functionality but also enhance the overall aesthetic of your outdoor living area.
The Benefits of Outdoor Fire Pit Sets
Before diving into the various stylish options available, let's first understand the benefits of investing in an outdoor fire pit set:
Warmth and Comfort: A fire pit provides a cozy source of warmth, allowing you to extend your outdoor gatherings even on cooler evenings.
Entertainment and Ambiance: The flickering flames and crackling sounds create a serene and relaxing atmosphere, perfect for unwinding and enjoying quality time with family and friends.
Year-round Use: With the right fire pit set, you can enjoy your outdoor space throughout the year, regardless of the season.
Enhanced Outdoor Living: Fire pit sets can elevate the overall look and feel of your outdoor area, making it a stylish and inviting space for entertaining and relaxation.
Versatility: Many fire pit sets come with additional features such as built-in tables or seating, providing a multi-functional and practical solution for outdoor living.
Choosing the Right Fire Pit Set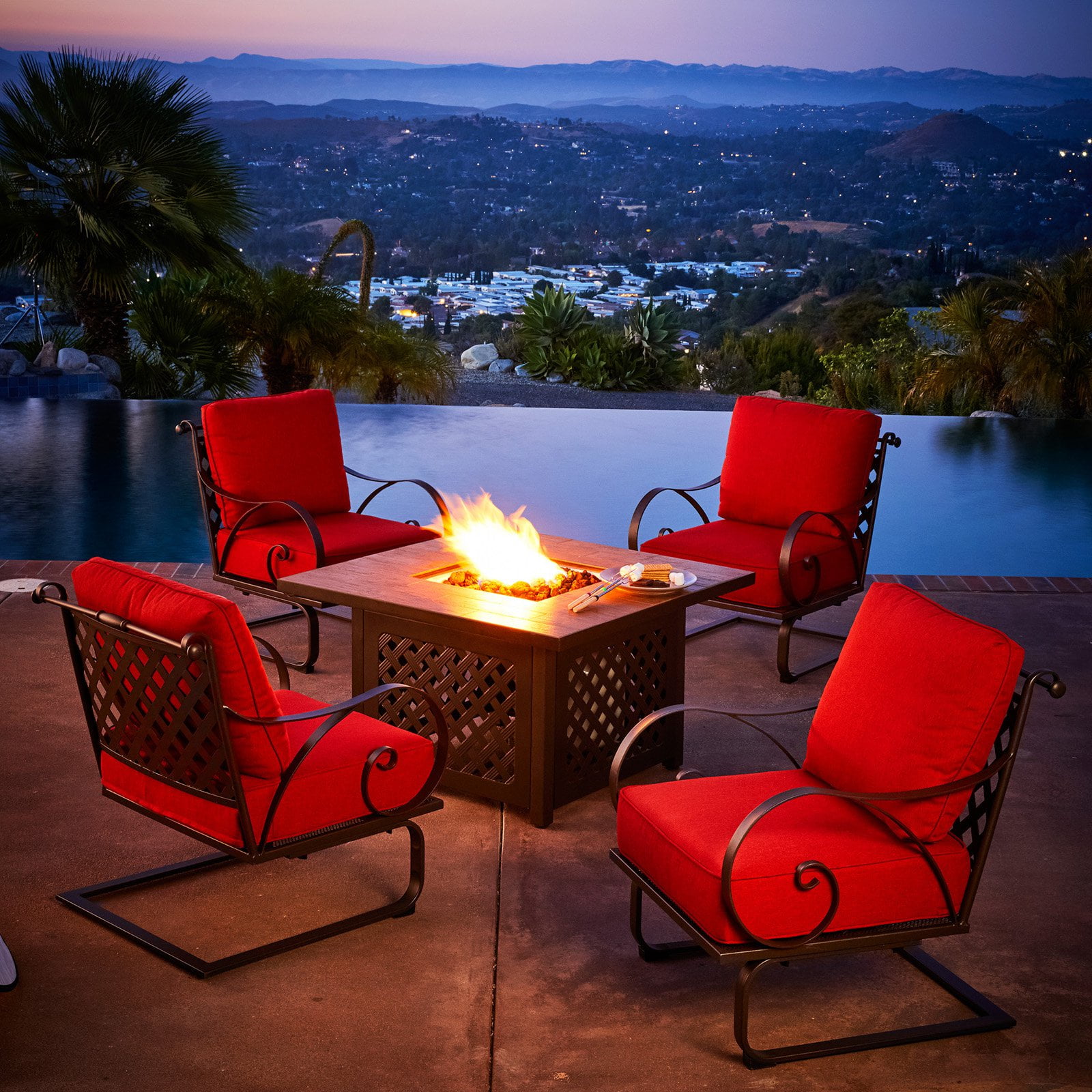 When selecting a fire pit set for your outdoor space, it's essential to consider several factors to ensure you make the right choice. Here are some key considerations:
1. Size and Space
Begin by evaluating the size and layout of your outdoor area. Determine how much space you have available for a fire pit set and consider the dimensions of the sets you're interested in. Ensure that the set fits comfortably in your space without overwhelming it.
2. Material and Durability
Outdoor fire pit sets are available in a variety of materials such as cast aluminum, steel, or stone. Each material offers different aesthetics and durability. Consider the weather conditions in your area and choose a material that can withstand the elements for long-lasting enjoyment.
3. Style and Design
Fire pit sets come in various styles and designs, ranging from traditional to modern. Consider the overall aesthetic of your outdoor space and choose a set that complements your existing décor. Whether you prefer a sleek and contemporary look or a rustic and classic feel, there's a fire pit set to suit every taste.
4. Fuel Type
Fire pits can be fueled by wood, gas, or propane. Each fuel type has its advantages and considerations. Wood provides a natural and authentic experience, while gas and propane offer convenience and ease of use. Consider your preferences, availability of fuel, and the maintenance required for each option.
Stylish Outdoor Fire Pit Set Options
Now that we've covered the key considerations, let's explore some stylish outdoor fire pit sets that are sure to elevate your outdoor space:
1. The Modern Minimalist
If you prefer a sleek and contemporary look, the modern minimalist fire pit set is the perfect choice. This set features clean lines, minimalistic design, and often utilizes materials such as stainless steel or cast aluminum. The focus is on simplicity and functionality, creating a stylish centerpiece for your outdoor area.
2. The Rustic Charm
For those who appreciate a more rustic and traditional feel, the rustic charm fire pit set is ideal. Crafted from materials like stone or wrought iron, this set exudes a cozy and inviting ambiance. The rustic charm fire pit set often incorporates earthy tones and intricate detailing, adding an element of timeless elegance to your outdoor space.
3. The Versatile Entertainer
If you enjoy hosting gatherings and want a fire pit set that offers versatility, the versatile entertainer set is the way to go. These sets often include built-in tables or seating, providing a multi-functional solution for outdoor entertainment. The versatile entertainer fire pit set is perfect for hosting outdoor dinners or game nights, ensuring both warmth and convenience for your guests.
Summary
Investing in a stylish outdoor fire pit set can transform your outdoor space into a cozy haven for relaxation and entertainment. By considering factors such as size, material, style, and fuel type, you can choose a set that perfectly suits your preferences and complements your outdoor décor. Whether you opt for a modern minimalist, rustic charm, or versatile entertainer set, the warmth and ambiance provided by a fire pit will undoubtedly make your evenings outdoors truly memorable.