Introduction
Teak wood has long been cherished for its durability, beauty, and versatility in furniture design. When it comes to bar stools, teak offers a unique combination of elegance and functionality. In this article, we will explore a range of unique teak bar stool designs that can enhance the aesthetic appeal and comfort of any bar or kitchen counter.
The Timeless Charm of Teak
Teak wood, scientifically known as Tectona grandis, is native to Southeast Asia and is highly regarded for its natural oil content, which provides exceptional resistance to rot, insects, and weathering. Its warm golden-brown hue, tight grain patterns, and smooth texture make it an ideal choice for furniture, particularly bar stools.
One of the distinguishing features of teak is its ability to age gracefully. Over time, teak develops a unique silver-gray patina when exposed to the elements, adding to its charm and character. However, if you prefer to maintain the original golden-brown color, regular treatment with teak oil can help preserve its appearance.
1. Classic Teak Bar Stools
The classic teak bar stool design is characterized by its simple yet timeless aesthetics. These stools often feature clean lines, a comfortable seat, and a sturdy frame. They can effortlessly blend into various interior styles, from traditional to contemporary, making them a versatile choice for any bar or kitchen counter.
Classic teak bar stools are typically handcrafted by skilled artisans who pay great attention to detail. They may showcase elegant joinery techniques, such as mortise and tenon, which ensure the durability and longevity of the stool. Additionally, some designs incorporate curved or contoured seats for enhanced comfort.
2. Teak Bar Stools with Backrests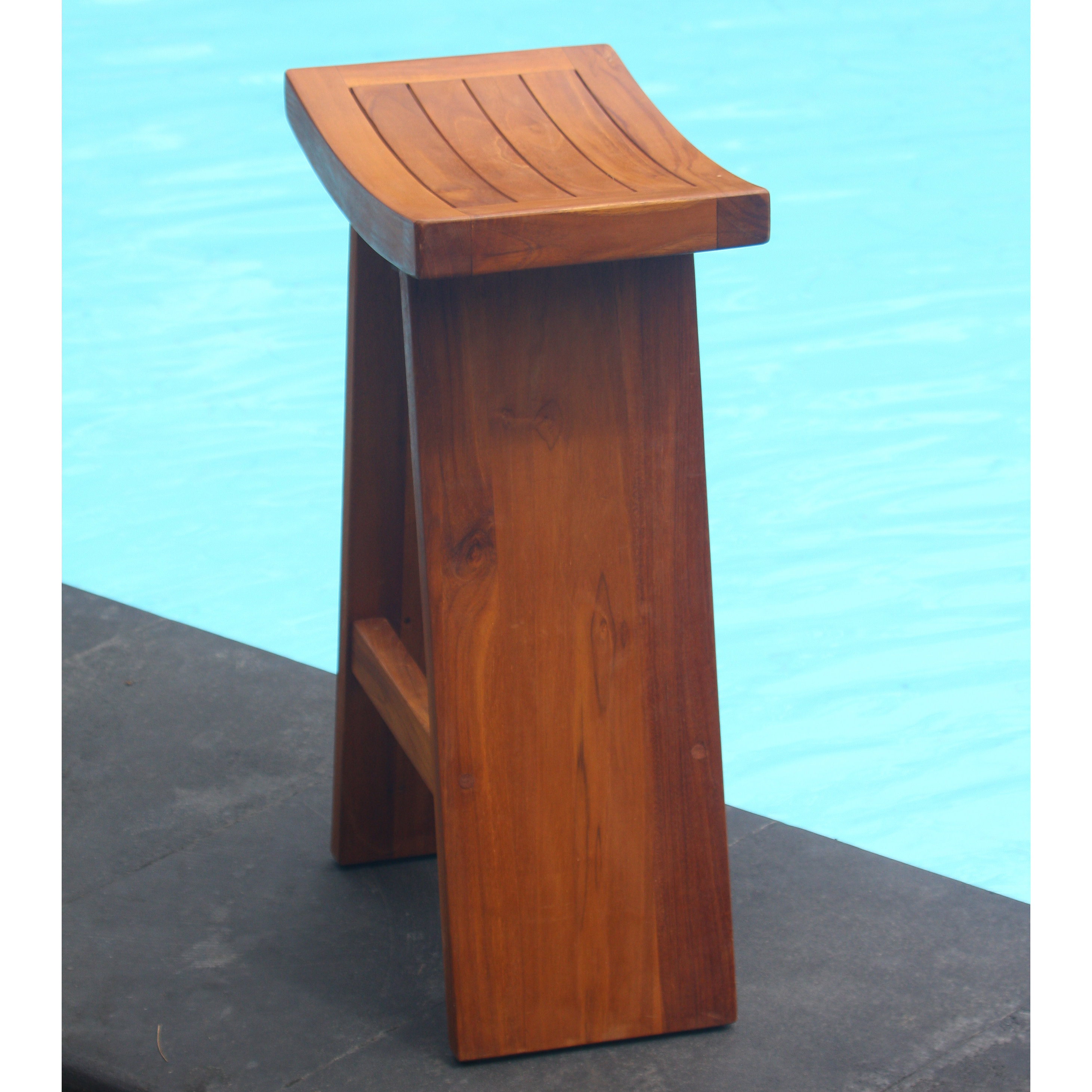 If you value both style and back support, teak bar stools with backrests are an excellent option. These stools offer a comfortable seating experience, making them ideal for extended periods of use. The backrests can vary in design, ranging from simple slats to intricately carved patterns, allowing you to choose the one that complements your overall decor.
Teak bar stools with backrests often feature ergonomic designs that provide optimal lumbar support. Some designs may also include armrests, further enhancing the overall comfort. Whether you prefer a contemporary or traditional look, there are numerous options available to suit your taste.
3. Adjustable Teak Bar Stools
For those who prioritize flexibility and adaptability, adjustable teak bar stools are an excellent choice. These stools typically feature a hydraulic or gas lift mechanism that allows you to adjust the height to your preferred level. This feature is particularly useful when accommodating guests of different heights or when transitioning between bar and counter height surfaces.
Adjustable teak bar stools often have a swivel function, which enables easy rotation without needing to move the entire stool. This feature adds convenience, making it easier to interact with others or turn to face different areas of the room. Additionally, these stools may incorporate footrests for added comfort.
4. Folding Teak Bar Stools
If space-saving is a priority, folding teak bar stools are a practical solution. These stools can be easily folded and stored away when not in use, making them ideal for smaller spaces or outdoor settings. Despite their foldable design, they maintain the same structural integrity and durability as their non-folding counterparts.
Folding teak bar stools often feature a minimalist design, with a focus on functionality and portability. Some designs may incorporate a locking mechanism to ensure stability when in use. Whether you have a small kitchen or enjoy hosting outdoor gatherings, folding teak bar stools offer convenience without compromising on style.
5. Teak Bar Stools with Upholstered Seats
For those seeking extra comfort and a touch of luxury, teak bar stools with upholstered seats are an excellent choice. These stools combine the natural beauty of teak with the softness and elegance of upholstery, creating a harmonious blend of materials.
Upholstered teak bar stools come in a variety of styles, allowing you to customize the seat fabric to match your decor. Whether you prefer leather, linen, or a patterned fabric, there are options available to suit your personal taste. Additionally, some designs may feature removable seat cushions for easy maintenance.
6. Teak Bar Stools with Unique Design Elements
For those looking to make a statement, teak bar stools with unique design elements offer a distinctive touch to any space. These stools often showcase creative details, such as intricate carvings, decorative inlays, or unconventional shapes.
Teak bar stools with unique design elements can serve as a focal point in your bar or kitchen area, adding an element of visual interest. They allow you to express your personal style and create a conversation piece for guests. Whether you prefer a contemporary twist or a nod to traditional craftsmanship, there are plenty of options to choose from.
7. Custom Teak Bar Stools
If you have a specific vision in mind or wish to incorporate your unique style into your bar stools, custom teak bar stools are the perfect solution. With custom designs, you have the freedom to choose every aspect of the stool, from the wood grain pattern to the finish and even the dimensions.
Custom teak bar stools offer the opportunity to work closely with artisans or designers to bring your ideas to life. They can be tailored to match your existing furniture or complement a particular theme in your home. Investing in custom teak bar stools ensures that you have a truly one-of-a-kind piece that reflects your personal taste and style.
Summary
Teak bar stools offer a unique blend of elegance, durability, and functionality. From classic designs to custom creations, there are numerous options available to suit various preferences and interior styles. Whether you prioritize comfort, space-saving, or eye-catching aesthetics, teak bar stools can enhance the ambiance of any bar or kitchen counter. With proper care and maintenance, these stools can become cherished pieces that last for generations, making them a worthwhile investment for any homeowner or establishment.