If you're looking to add a touch of nostalgia to your dining room, a vintage teak dining table might be just the piece you need. Teak, known for its durability and beautiful grain, has been a popular choice for furniture for centuries. A vintage teak dining table not only brings a sense of history and character to your space but also offers a timeless elegance that can complement any interior style. In this article, we will explore the charm and allure of vintage teak dining tables, their unique features, and how to care for them to ensure they last for generations to come.
Why Choose a Vintage Teak Dining Table?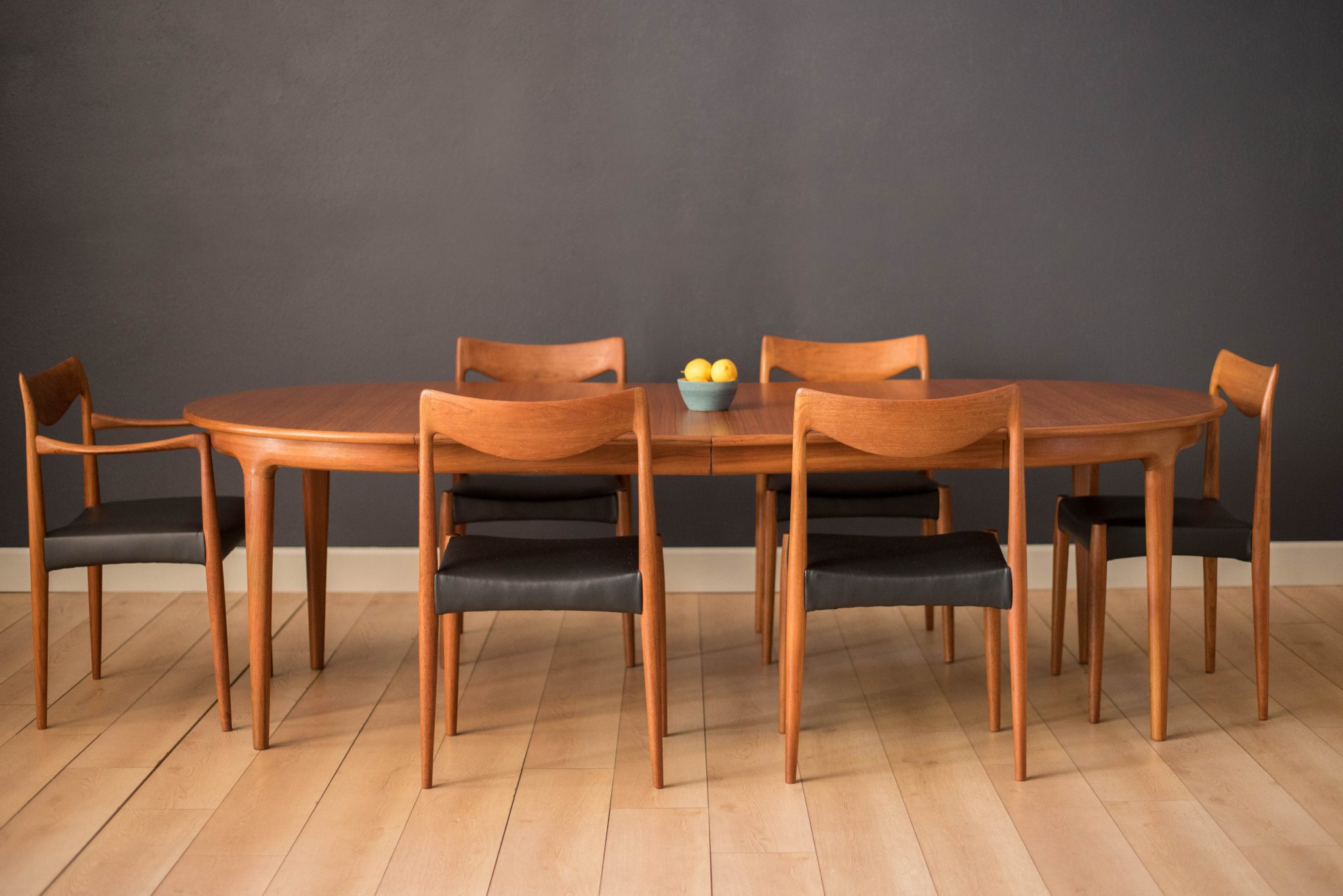 There are several compelling reasons why you might consider investing in a vintage teak dining table for your home. Here are a few key benefits:
1. Timeless Beauty: Teak wood has a natural warmth and rich golden hue that can enhance the overall aesthetics of your dining area. The vintage patina that develops over time adds to its beauty and charm.
2. Durability: Teak wood is known for its exceptional durability and resistance to rot, insects, and warping. A vintage teak dining table can withstand the test of time, making it a worthwhile investment.
3. Unique Character: Each vintage teak dining table has its own story to tell. The natural variations in the wood grain and the wear and tear from years of use create a unique character that cannot be replicated.
4. Sustainability: Opting for a vintage teak dining table is an eco-friendly choice. By giving new life to a piece of furniture that may have otherwise been discarded, you contribute to reducing waste and promoting sustainability.
Features of Vintage Teak Dining Tables
Vintage teak dining tables come with a range of features that set them apart from their modern counterparts. Understanding these features can help you make an informed decision when choosing the perfect table for your home. Here are some key characteristics to be aware of:
1. Solid Teak Construction: Vintage teak dining tables are typically made from solid teak wood, which ensures their durability and longevity. Look for tables with thick, sturdy legs and a solid tabletop.
2. Danish Influence: Many vintage teak dining tables were influenced by Danish design, which is known for its clean lines, simplicity, and functionality. These tables often feature sleek, minimalist designs that can seamlessly blend with both modern and traditional interiors.
3. Extension Mechanisms: Some vintage teak dining tables come with built-in extension mechanisms, allowing you to easily accommodate additional guests when needed. These mechanisms can be in the form of butterfly leaves, drop leaves, or sliding tops.
4. Mid-Century Modern Style: Vintage teak dining tables from the mid-20th century often feature a mid-century modern style. This style is characterized by organic shapes, tapered legs, and a focus on functionality.
Caring for Your Vintage Teak Dining Table
To ensure that your vintage teak dining table remains in excellent condition for years to come, proper care is essential. Here are some tips to help you maintain its beauty and durability:
1. Regular Cleaning: Dust your table regularly with a soft cloth or feather duster to prevent the buildup of dirt and debris. Avoid using harsh chemicals or abrasive cleaners that can damage the wood.
2. Avoid Direct Sunlight: Teak wood can fade when exposed to direct sunlight for prolonged periods. Consider placing your vintage teak dining table away from windows or use curtains or blinds to protect it from harmful UV rays.
3. Moisture Protection: Teak wood is naturally resistant to moisture, but it's still important to wipe up spills immediately to prevent staining. Use a damp cloth and mild soap to clean any spills and dry the surface thoroughly.
4. Oil or Seal the Wood: Over time, the natural oils in teak wood may dry out, leading to a dull appearance. To restore its luster, you can apply teak oil or a sealant specifically designed for teak furniture. Follow the manufacturer's instructions for best results.
Summary
A vintage teak dining table brings a touch of nostalgia, timeless beauty, and unique character to your dining room. Its durable construction, Danish influence, and mid-century modern style make it a sought-after choice for interior enthusiasts. By caring for your vintage teak dining table properly, you can ensure its longevity and enjoy its elegance for many years. So, why not add a piece of history to your home with a vintage teak dining table?
Gallery