Wood Effect Vinyl Flooring Ideas You Can Use
Introduction
Wood flooring is a popular choice for many homeowners due to its timeless beauty and durability. However, real wood flooring can be expensive and require regular maintenance. This is where wood effect vinyl flooring comes in. It offers the look and feel of real wood at a fraction of the cost and with minimal upkeep. In this article, we will explore various wood effect vinyl flooring ideas that you can use to enhance the aesthetic appeal of your home.
Benefits of Wood Effect Vinyl Flooring
Before delving into different design ideas, let's first understand the benefits of wood effect vinyl flooring:
Affordability: Vinyl flooring is more budget-friendly compared to real wood flooring, making it a cost-effective option.
Durability: Vinyl flooring is highly resistant to scratches, stains, and dents, making it ideal for high-traffic areas.
Easy Maintenance: Unlike real wood, vinyl flooring is easy to clean and requires minimal maintenance. Regular sweeping and occasional mopping are sufficient to keep it looking pristine.
Moisture Resistance: Vinyl flooring is waterproof, making it suitable for areas prone to moisture, such as bathrooms and kitchens.
Versatility: Wood effect vinyl flooring is available in a wide range of colors, patterns, and textures, allowing you to achieve any desired look.
1. Classic Oak
Classic oak is a timeless choice that adds elegance and warmth to any space. With its natural grain and rich brown tones, it creates a cozy atmosphere in living rooms, bedrooms, and dining areas. Classic oak vinyl flooring pairs well with both traditional and modern interior styles, making it a versatile option.
2. Rustic Pine
If you prefer a more rustic and vintage look, rustic pine vinyl flooring is an excellent choice. It features distressed wood patterns and weathered textures, giving your space a charming and nostalgic feel. Rustic pine flooring works particularly well in farmhouse-style kitchens, cabins, or any space where you want to add a touch of nature.
3. Grey Washed Ash
For a contemporary and sleek look, consider grey washed ash vinyl flooring. This cool-toned wood effect adds a modern touch to any room. It pairs well with minimalist and Scandinavian interior designs, creating a clean and sophisticated atmosphere. Grey washed ash flooring is especially popular in bedrooms, home offices, and open-concept living spaces.
4. Walnut
Walnut vinyl flooring offers a luxurious and sophisticated feel to any space. With its deep, dark brown tones and intricate grain patterns, it exudes elegance and refinement. Walnut flooring is an excellent choice for formal living rooms, home libraries, or any area where you want to make a statement. Pair it with light-colored furniture and accessories to create a striking contrast.
5. Driftwood
If you're aiming for a coastal or beach-inspired theme, driftwood vinyl flooring is a perfect fit. It replicates the weathered and sun-bleached appearance of reclaimed wood found along the shore. Driftwood flooring adds a relaxed and laid-back vibe to living rooms, bedrooms, and even bathrooms. Complement it with light, airy colors and natural textures for a truly beachy feel.
6. Herringbone Pattern
For a touch of sophistication and visual interest, consider using wood effect vinyl flooring in a herringbone pattern. This classic pattern features interlocking rectangular pieces arranged diagonally, creating a timeless and elegant look. Herringbone vinyl flooring works well in entryways, hallways, and formal dining rooms, adding a sense of grandeur to these spaces.
7. Wide Planks
If you want to make a room appear more spacious, opt for wood effect vinyl flooring with wide planks. Wide planks create an illusion of larger floor space and can make a room feel more open and inviting. This design is especially beneficial in small rooms or areas with low natural light. Choose a light-colored wood effect vinyl flooring with wide planks to enhance the effect.
8. Parquet
Parquet flooring is a classic and intricate pattern that adds a touch of elegance and sophistication to any room. It features small wood pieces arranged in geometric shapes, such as squares or triangles. Parquet vinyl flooring is an excellent choice for formal dining rooms, home offices, or any space where you want to create a luxurious and refined ambiance.
9. Reclaimed Barn Wood
If you love the rustic charm of reclaimed wood but want a more affordable and environmentally friendly option, consider vinyl flooring that replicates the look of reclaimed barn wood. This flooring choice adds character and history to any space, making it particularly suitable for farmhouse-style kitchens, cozy living rooms, or rustic-themed bedrooms.
10. Mixed Width Planks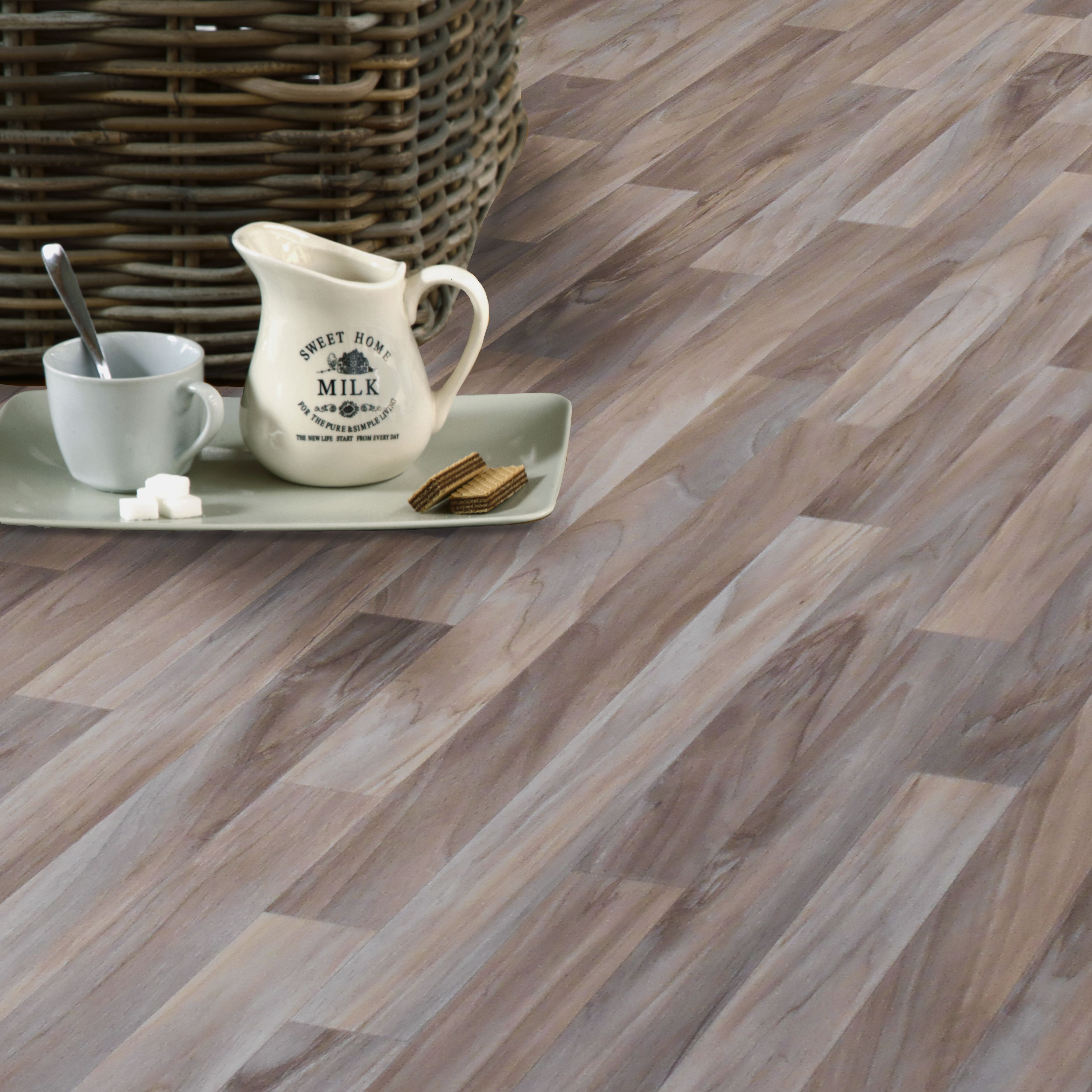 If you're looking for a unique and visually appealing flooring design, consider using vinyl planks of different widths. Mixed width planks create a dynamic and textured look, adding a sense of movement to your floors. This design works well in modern and eclectic interiors, making a bold statement in living rooms, bedrooms, or even commercial spaces.
Summary
Wood effect vinyl flooring offers a wide range of design options to suit various interior styles and preferences. From classic oak to rustic pine, there is a wood effect vinyl flooring idea for every taste. Whether you want to create a warm and traditional ambiance or a sleek and contemporary look, vinyl flooring provides an affordable and low-maintenance alternative to real wood. By choosing the right wood effect vinyl flooring, you can transform your space and enjoy the beauty of wood without the associated costs and upkeep.